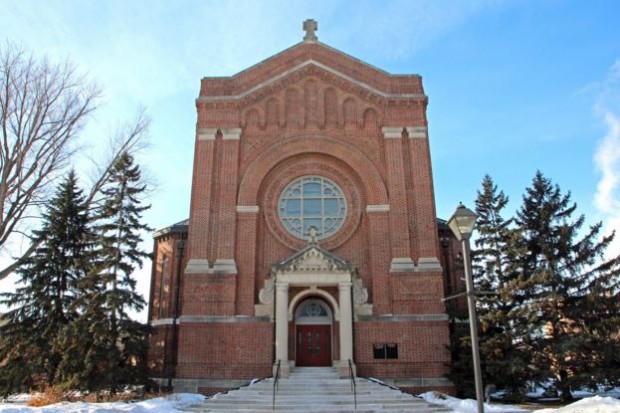 The month of February has much greater significance than cutting pop out of your diet for Lent or celebrating Valentine's Day. In the Catholic Church, February is a month of self-reflection and remembrance for the man who died on the cross.
St. Thomas is hosting Stations of the Cross, a memorial of the stages of the crucifixion of Jesus Christ, every Friday during Lent. Christopher Labadie, the assistant director of liturgy for Campus Ministry, invites students to walk the way of the cross with their peers and ministry in a celebration of Christ.
Sophomore Aaron Beckman first walked the Stations of the Cross as a senior in high school and is glad that St. Thomas provides the opportunity for him to continue with his Lenten tradition.
"Ever since then, three years since, it's basically been kind of a tradition of mine just to really delve into Stations of the Cross and make it a priority for me to go," Beckman said.
The devotional practice follows the path of Jesus from his condemnation by Pontius Pilate to his burial after crucifixion. Fourteen stations are represented and a short ceremony occurs at each, including prayers and a scripture reading.
"[The sequence] is a long poem set to music called the Stabat Mater Dolorosa, and we sing verses of that in between each station," Labadie said.
Participants move from the first station to the 14th – each station a reminder of what the Lenten season commemorates.
"In the very traditional form of the Stations of the Cross in Jerusalem, you actually walk the same route that Jesus took, and you are in the same places that he was at when these things happened," Labadie said. "We obviously can't do that here, so it is condensed down into the 14 images."
Labadie hopes to one day walk the way of the cross in Jerusalem.
"It's kind of a bucket list item," he said.
For Beckman, the tradition is a reminder of what his faith is all about.
"For me it's really just humbling, because I think I have fallen short many times in my life, and I continue to fall short every day, but I get to remember … I constantly have a man who forever and always laid down his life for me in order that I may ultimately be with him one day," Beckman said. "I know that's kind of a lofty principle, but that's what's cool about Stations and about Lent."
Similarly, Labadie explained how Stations of the Cross calls him back to self-reflection in his faith.
"It's an important Lenten practice because often we can get caught up in Lent and forget what the actual event is that we are commemorating. This isn't just a 40-day self-help session; we are preparing to walk the way of Christ," he said.
Beckman encourages all students to attend the event.
"I just hope that everyone can take these 40 days of Lent to in some way grow," Beckman said. "Whether that be in love, in virtue or in a relationship with Jesus."
Stations of the Cross will be held in the St. Thomas Aquinas Chapel every Friday of Lent at 5 p.m. Everyone is welcome.
Marissa Groechel can be reached at groe5630@stthomas.edu.