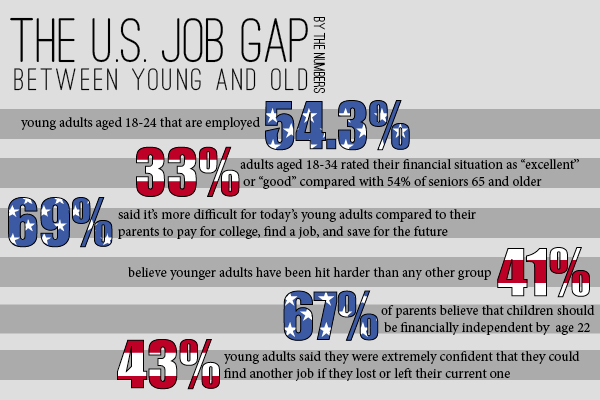 A Pew Research Center analysis, released Thursday, Feb. 16, details the impact of the recession on the attitudes of 20- and 30-year-olds, and St. Thomas students are feeling the effects of a tough job market.
According to the analysis, about 69 percent of the young adults surveyed said it's harder to find a job today than it was for their parents' generation to pay for college, find a job, buy a home and save for the future.
Senior Kim Hughes is planning on applying to medical school after graduation but said that she is worried about finding a job and her finances.
"I'm a little worried about paying off loans. My fiance is going to law school, and we're getting married. Once it all comes together, you wouldn't believe the numbers," she said.
The study found that for the first time since World War II, young Americans are the least likely to be employed.
However, senior Christian Schuster is confident his St.Thomas degree will help him in his job search.
"I'm working on getting internships; I'm not too worried," Schuster said
Though Schuster is not concerned, Ernest Owens, St. Thomas assistant professor of management development, said that "today's student has to pay more out of pocket for their education," which makes getting a job right away even more essential.
Owens said that the government used to help students pay for the cost of education through grants and service activities, but that is no longer the case; and students are at a significant disadvantage compared to their parents.
Junior Ramy Hashw said that students today have a harder time than older generations because of the job deficit. However, he thinks when the baby boomers retire, more jobs will be available.
"It's always cyclical, and when many of the boomers retire there will be a deficit of people. The millennials will have a huge demand on them in the next five or 10 years," Owens said.
Owens said the real question is how many students have gotten out there and dealt with employers.
"Optimism reflects a broader issue. Most people do not do strategic planning," Owens said. "They do not look into the next five to 10 years, and they are just living in the moment."
Junior Harry Pitera has a plan for his future and is optimistic he will find a job.
"I want to go into sales. As long as I get something along those lines, I can use that as a platform for a different career path if I don't like it," he said.
Among young adults ages 18 to 34 that were surveyed, only one third rated their financial situation as "excellent" or "good," compared to 54 percent of people 65 and older.
Owens said that the economic downturn "is not age dependent."
"Baby boomers are not going to retire at age 55 as they used to. Instead, they will retire much later. The reason is because many of them are not self-sufficient," Owens said.
"This is the same fear for students coming out of school with large debts, they aren't self- sufficient," he added.
A shrinking share of parents — about 67 percent — said they believe their children should become financially independent by 22 years old, while 31 percent said it doesn't need to occur until 25 or later, according to Pew Research' analysis.
"If you go back decades ago, it is not uncommon that a family had many generations living under one roof," Owens said. "So moving back to that is not surprising."
Hughes sad that she thinks that the general public has become more accepting of students living at home. She also added that all three of her roommates moved home after graduating college.
"You share a house with your friends, you might as well share a house with your parents," Hughes said. "A lot of students pay rent to their parents."
Kelsey Broadwell can be reached at broa3324@stthomas.edu.
Graphic created by Genevieve Cossette.