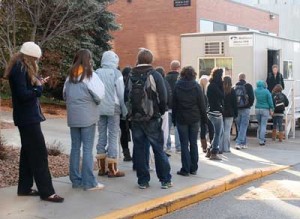 Students lined up outside the Tommie Triage Trailer, located behind Brady Hall, at 11 a.m. Monday to receive their H1N1 vaccine.
"I don't have a car so it's not like I could get anywhere," freshman Rose Miron said as she waited in line. "It's nice that I could just walk over."
With the first allotment of H1N1 vaccines now on campus, the Student Health Service will offer the vaccine until 4 p.m Monday afternoon. The number of doses is limited and will be offered to students for $10.
The vaccine offered at St. Thomas is the injected version, instead of the nasal spray that has been offered elsewhere.
"I don't really do well with needles, but I think it'll be better in the long run," Miron said. "I have asthma, so if I get H1N1, it could be really dangerous. I feel like getting the vaccine would be safer."