The university's Sustainability Committee is reviewing sustainability project proposals from St. Thomas students, faculty and staff a goal set by the university's Climate Action Plan.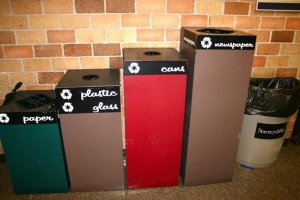 Geography professor Paul Lorah along with three other professors and one student submitted their proposal, "Student restoration of oak forest: analyzing carbon storage in a recovering landscape,"to the campus sustainability fund.
Lorah said the plan calls for $15,000 to plant 15,000 trees. He said the trees will help sequester carbon and will also be used as a service project and outdoor lab for students.
"So we would have service projects where students would plant trees and then we would go back to these sites at Fish Creek, about 20 minutes from campus," he said. "We would go back to these sites year after year, and students would use the recovering landscape as a lab."
St. Thomas senior and student chair for the Sustainability Committee, Lewis Segl, said a variety of students, staff and faculty have submitted proposals and at the deadline, seven projects were submitted.
Selection Process
Segl said that the projects will go through a 45-day review process by the evaluation committee and the steering committee to decide, which projects will be funded.
"The main goal of this campus sustainability fund is to directly offset carbon outputs that St. Thomas has," he said. "We're trying to just pick the best ones that offset our carbon outputs."
Segl said the committees will meet in the next week and a half to discuss the proposals. He said they plan to announce the chosen proposals before the end of the semester, and it may be a difficult choice.
"Just because people don't get picked doesn't mean they don't have a good idea," he said. "We do have a limited amount of money."
Lorah has high hopes for his own projects but is supportive of the other proposals as well.
"If we don't get it, that just means there is a better project out there," he said.
Carbon Neutrality
Lorah explains that the notion of carbon neutrality is removing the same amount of carbon from the air as you put in.
"The morality of carbon neutrality is simple, if you make a mess, clean it up. And there are things we do that put pollution in the air, driving to school for example," he said. "But there are also things that we do that can take pollution out of the air."
Lorah explained some things that the university could do or has done to reach their goal of carbon neutrality by the year 2035.
"So things you could do, would be to plant trees, as the trees grow they store carbon, they sequester carbon," he said. "You could put up solar panels and switch to burning coal for electricity, or natural gas to renewable sunlight. You could make the university more energy efficient by just using less energy in the first place."
Hopes for the Future
Segl said that the sustainability committee is glad to see proposals coming in this year because of the small amount of time given for planning. He said they are looking toward the future and hoping for more proposals and funding next year.
"I'm hoping that with the extended timeline for the next proposal we will have a lot more proposals," he said. "Hopefully with the increase in proposals we will have a chance at getting more funding and from there that's all we can really hope for."
Lorah thinks that the fund has potential to help campus sustainability progress.
"I really think St. Thomas students and faculty will be able to make the landscape scale change with this fund," he said. "It's easy to talk about campus sustainability, but the fact that we have this fund means that we are really putting our money where our mouth is."
He added, "I think we are really going to see real progress, progress that students help lead."
Madeline Carlson can be reached at carl8801@stthomas.edu.