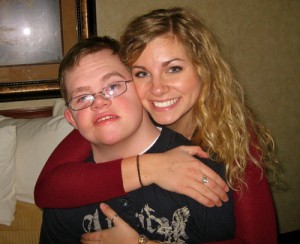 Senior Kari Jo Johnson said when she hears the word "retarded," "It kills me … It's like the absolute sharpest knife that punches you in the gut and makes you lose your breath." Johnson's younger brother, Zach, is 18 and has Down syndrome.
Johnson said she knows her brother looks different. He has a vocabulary of less than 20 words. But she has never seen him as different from herself.
"[The word] really hurts," she said. "It's used in such a negative context that it's terrible."
Johnson decided to do something about the word. Her mother e-mailed her last year about a national campaign the Special Olympics launched called "Spread the Word to End the Word." It asks people to pledge not to use the word "retard" or "retarded" because the negative connotation hurts people who are intellectually disabled.
Johnson decide this spring was her last chance to do something with the campaign at St. Thomas. She contacted senior John Busch, whose brother Joey also has Down syndrome.
Getting pledges from St. Thomas community
With the help of three others, Johnson and Busch have planned a May 4 "Spread the Word to End the Word" event. Tables will be set up in the Grill and cafeteria so students can join more than 131,000 people nationwide who have pledged to stop using the word.
Students who fill out a pledge will receive wristbands and be photographed. "We are going to compile all the pictures on a big poster," Johnson said. The poster will be displayed at the May 4 event.
The event will feature a Special Olympics speaker who has cerebral palsy and a panel of students who have family or friends with intellectual disabilities.
Johnson has also created a video featuring students on campus talking about the r-word and how it makes them feel.
Johnson said she is amazed by all the support she has received. Her original vision of sitting at a table with Busch in the Grill for a day talking to people about the pledge has expanded.
"Everyone has been completely supportive, and it's been more than I can ever ask for," Johnson said.
RHA, STAR and University Relations have helped her with the event. The Special Olympics has helped set up speakers and donated campaign gear for students. The Special Olympics will feature Johnson's video on its campaign website. Johnson also will intern with the Special Olympics this fall.
"I'm really excited, and it's really going to be beneficial to the campus community I think."
Ending the r-word
Johnson thinks using the r-word makes people sound less educated.
"It makes you look ignorant, a little more closed-minded, because there's this whole pool of other words that you could use," she said.
Johnson wants people to understand that intellectually disabled people, like her brother Zach, are the same as "you and I."
"For all we know, he's a bajillion times happier than we are, because he doesn't care about what people think," she said. "He lives life and gets up every morning smiling because he loves movies, and he loves basketball, and his family, and he loves grilled cheese and French fries. And if he has all those things, that's all he needs."
Theresa Malloy can be reached at mall5754@stthomas.edu.