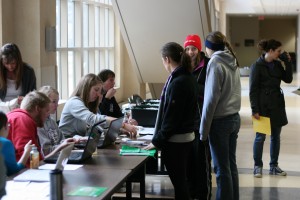 Youth minister Pat Millea recounted works of Jesus, Mother Teresa and Dorothy Day in a "service pep-rally" to about 120 St. Thomas students Saturday morning.
Millea's speech kicked off the third annual "Wash My Feet" service event. Christian Student Leaders, Volunteers-In-Action and St. Thomas Activities and Recreation hosted the event, which sent students to sites across the Twin Cities to volunteer for the day.
"We just gather, go out in the neighborhoods and volunteer," site leader senior Emily Prichard said. "You think that you're helping others, but really the reward in return is so much better."
The event's name comes from the story of Jesus washing his disciples' feet. Millea called for students to "get down and dirty, to wash the feet of those around us."
Groups did spring cleaning and other chores at nine sites including Feed My Starving Children and Little Sisters of the Poor. They also went to the home of an older woman who lives alone.
"She loves St. Thomas students, loves having us come to her home and do work for her," Prichard said. "She is very 'work first,' then she treats us to some of her home cooking."
Prichard is one of many students who ended up working outside with snow on the ground and temperatures in the 30s. One of the event organizers, senior Liz Jamison, said the students' willingness to work in the snow "speaks volumes about how much [they] care about the community."
Prichard said, "I wish it wouldn't have snowed, but I think it will make all our jobs a lot more interesting."
Senior Matt Pazderka led a group of 10 students in cleaning classrooms at St. Richard's Catholic Church.
"I talked to the volunteer coordinator over there and he said to expect to be cleaning hard for a couple hours," Pazderka said. "I think most people who come are excited and willing to put some work in."
"Wash My Feet" gave students an opportunity to earn six service hours, which are a requirement for some St. Thomas classes and can be hard to come by, freshman Megan Coffman said.
"This made it really easy because you just sign up to do it," Coffman said. "St. Thomas plans it, so I didn't have to go out there and find something."
Alex Keil can be reached at amkeil@stthomas.edu.