Daylight savings time began Sunday at 2 a.m., meaning a lost hour of sleep for college students who already have inconsistent sleep habits.
A study in the "Journal of Adolescent Health" found that only 30 percent of students reported getting the recommended eight or more hours of sleep per night.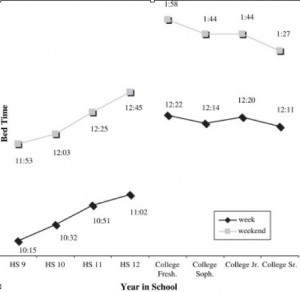 "I push for eight hours, because if I don't get that I can't function," freshman Maddie Hodapp said.
Psychology professor Roxanne Prichard, who co-authored the study, said the transition from high school to college is "the biggest jump that you have in your sleep cycle ever."
She said freshmen wake up at about 8 a.m. in college compared to 6:30 a.m. in high school. The study also found that college students go to bed at about 12:20 a.m. on weekdays, which is later than the high school senior's average time of 11 p.m.
Sophomore Allie Koram and Hodapp agreed that their sleep schedules have changed at night and in the morning after entering college.
"I would say I'm going to bed later [in college]," Hodapp said.
Koram said she usually wakes up later, "but there is more to do compared to high school."
Classes, homework and extracurricular activities also cause variations in students' sleep schedules each semester.
"This semester I'm going to bed at 12:30 a.m. and waking up at 8:30 a.m., because all my classes start at the same time," freshman Tim O'Connor said.
Senior Colin Anderson said he gets a good night's sleep every other night.
"My [sleep schedule] is more of a when-you-can-throughout-the-day, especially this semester," he said.
Substitutes for eight hours of sleep
O'Connor and Anderson said students rely on caffeinated beverages or other substances to make up for sleep.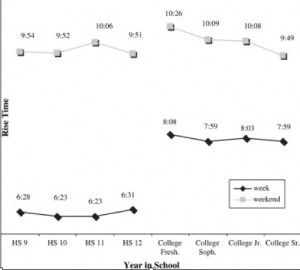 "I used to use a lot of caffeine and Adderall," Anderson said.
Students also compensate for lack of sleep by taking naps. According to the sleep study, 12 percent of poor sleepers miss class three or more times a month or fall asleep in class.
"I try to take naps, but it never happens," Hodapp said. "I have three classes Monday, Wednesday and Friday, so I'm in the middle of the day when I have my math class, and I am always dozing off."
Koram is the opposite.
"Sometimes I take naps, but I usually don't fall asleep during class," she said.
Anderson said he doesn't take naps too often, but if he does it is before his classes.
Unhealthy sleep patterns
Anderson also pulls all-nighters "at least once a week." According to the study, 20 percent of students stay up all night on a weeknight at least once a month.
Prichard said she often sees insomnia in students.
"Before I go to bed it takes me a half hour to actually go to sleep, because I am thinking about things I need to do the next day," Hodapp said.
Prichard said students can reduce the time it takes them to fall asleep by turning off cell phones and computers. She said blue lights in computer screens tell your brain it's morning.
"If you can't get back to sleep within 15 minutes, it's a good idea to get out of bed and do something tedious and boring," Prichard said.
Kelsey Broadwell can be reached at broa3324@stthomas.edu.