John Tauer believes that people who are truly excellent in life don't just ride on their ability but instead are driven by passion and good, old-fashioned hard work, a life philosophy that likely helped him land a spot on the Minneapolis/St. Paul Business Journal's "2012 40 Under Forty" list.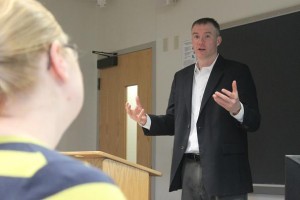 Tauer, St. Thomas' interim men's basketball coach and psychology professor of 12 years, said being named to the list that annually celebrates some of the Twin Cities' top business and civic leaders was a tremendous honor.
"Certainly when you look at the recipients, they embody a lot of outstanding traits of people in our community. To be mentioned in the same breath with them was certainly flattering and a privilege and honor," Tauer said.
An honor that he said is more of a reflection of the people at St. Thomas than of himself.
"Really, I feel blessed to work at St. Thomas, being surrounded by so many great people," Tauer said. "I think that's more a reflection of them than anything else."
Tauer is no stranger to the St Thomas community. He grew up in the university's surrounding neighborhoods, was a standout athlete at Cretin-Derham Hall and graduated from St. Thomas with a psychology degree and Academic All-America basketball honors in 1995.
When he started at St. Thomas, Tauer said he was unsure about what to major in but quickly found mentors in general psychology professor John Buri and former men's basketball coach Steve Fritz.
"When I look back, those people and my parents were the ones that were most instrumental in, more than anything I think, chasing whatever I was passionate about," Tauer said.
From St. Thomas, Tauer ventured to the University of Wisconsin-Madison's graduate program in social psychology, where he worked with Judith Harackiewicz, one of the world's leading intrinsic motivation researchers. Tauer cites Harackiewicz as his main motivation for choosing Madison's graduate program.
During his time at Madison, Tauer completed his dissertation research titled "Winning isn't everything: Competition, achievement, orientation and intrinsic motivation." Through his research, Tauer investigated the motivational process involved in competition and cooperation and also taught statistics and research methods.
Harackiewicz said she had the pleasure of supervising Tauer's dissertation and said he brought unique insights from his experiences as an athlete into the research.
Harackiewicz said Tauer's research was published in the psychology field's most prestigious journal, The Journal of Personality and Social Psychology, which is printed by the American Psychological Association.
"Johnny Tauer was the best kind of graduate student — highly motivated, brilliant and a joy to work with," Harackiewicz said. "The University of St. Thomas is very lucky to have such a fine scientist, teacher and coach, and I am very lucky to have had Johnny as a graduate student."
Life after college
After graduating from Madison in 2000, Tauer didn't necessarily know he would end up back at St. Thomas, he said.
"My dream was to teach psychology and to coach," Tauer said. "I feel blessed to have at least figured out relatively early in my career that's what I wanted to do, and I still love doing it everyday."
From there, it did not take Tauer long to fulfill his dream. He was hired as a St. Thomas psychology professor in 2000 and took the men's basketball assistant coaching position under Fritz that same year.
Twelve years and one national championship later, Tauer has made name for himself on the court and in the classroom.
In 2012, Tauer became the second MIAC coach in any sport to sweep regular season and playoff titles in their rookie season. Tauer is also the president of Johnny Tauer's Championship Basketball Camps, which have trained youth basketball players for the last 17 years.
Junior guard John Nance said Tauer is a different kind of coach who can give his players the best advice in any situation.
"Every time I talk to him I learn something new," Nance said. "He's always saying you've got to think ahead. When they're playing checkers, we've got to be playing chess."
Tauer lightened his teaching load to a just a motivation course this semester, but he said that he is proud of the work he does in the classroom.
"(Teaching) is work that is not in the newspaper like a basketball game, but those are hopefully impacts that you have on other people," Tauer said.
Junior Jacob Reilly, who is enrolled in Tauer's motivation class, said Tauer is an engaging professor who makes an effort to get to know all his students.
"He's very energetic in his lectures. He does it in a way that all of us can get involved, and that's something that's really cool," Reilly said.
Because his educational topic relates so closely to his coaching career, elements of psychology tend to seep onto the basketball court and vice versa, Tauer said.
"When I talk about teaching and coaching… the theme is that I'm really excited to help college students develop and grow as people and students and athletes, and I'm blessed that I get to do something that for me is both rewarding and challenging," Tauer said.
Although working as a professor and coach involves a lot of time-management and balance, Tauer said if you find a job you love, you'll never work a day in your life.
"Never once in 12 years have I come to St. Thomas and thought, 'Uh, I have to go to work today.' It's, 'I get to go to work! This is great. There's nothing I'd rather do.'"
Briggs LeSavage can be reached at lesa4364@stthomas.edu.