Even though a project by The Institute for College Access and Success ranked Minnesota as having the third highest average student debt in the nation, university numbers show that most St. Thomas students pay off their loans.
The project showed the average Minnesota college student from the class of 2011 borrowed $29,793. Kris Roach, director of Admissions and Financial Aid, said St. Thomas has a default rate of 2.1 percent, meaning that 97.9 percent of St. Thomas students have been able to pay off those loans in a timely manner.
"Our student default rate … is very good. What that says to me is that yes students have borrowed, but our students have still been successful enough at getting their jobs and paying off their student loans," Roach said.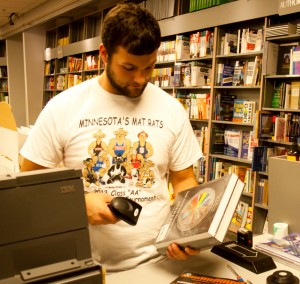 Senior Abigail Rohlfing said she thinks the $29,793 average is accurate.
"It's accurate because I took out thousands of dollars just to sign up for classes. I'll have to take out more this coming semester to make sure I graduate," Rohlfing said.
While some students worry about paying off their loans, sophomore Brock Johnson said he thinks these loans are well worth the investment.
"I feel like this ranking is a good sign. Minnesota is pursuing higher education," Johnson said. "I don't mind being in debt for a while if I'm going to benefit from it in the future."
Roach said she agrees that loans are well worth the investment.
"I believe that Minnesotans value education. They still see that investing in an education over the course of a lifetime is one of the best investments that you can make," Roach said.
Most St. Thomas students take out two types of loans, Roach said. The average amount of federal loans taken out is $21,500. However, when the federal loans are combined with private loans, it averages at $31,000.
Roach said it usually takes around 10 years for a student to pay off his or her loans.
"It's normally a 10 year repayment. Monthly payment, 10 years, for most of the loan programs," Roach said. "They start six months after you graduate, after being a full time student."
While it takes time to pay off this debt, Roach said it's really the best way to pay for an education.
"It's hard to save. It's difficult to write a check out of current earnings because we're all kind of living on what we make and paying our bills," Roach said. "That means that we need to consider our future and borrow from future earnings."
Rolfing said she feels secure about paying off her loans with future earnings, especially with President Barack Obama's Student Aid and Fiscal Responsibility Act, which forgives a student's loans after 20 years of consistent, on-time payments.
"I feel good knowing about Obama's debt forgiveness program. I'm happy knowing that I won't have to pay off my loans for the rest of my life," Rohlfing said.
Roach said she doesn't see how the concept is feasible because she wonders where that money is going to come from.
"I had to repay my student loans," Roach said. "I took that on because I knew I was borrowing and I knew that it was my obligation to repay them. So I guess I would challenge the next generation to see that in the same way."
Rolhlfing said although loans can be concerning, the money is going toward something worthwhile.
"I know that this investment will benefit me in the future, and eventually I will find a job that I love," Rohlfing said.
Kayla Bengtson can be reached at beng2004@stthomas.edu.