St. Thomas' Board of Trustees unanimously approved a 4.9 percent increase for next year's undergraduate tuition and fees rate Thursday as a part of the 2012-2013 university budget.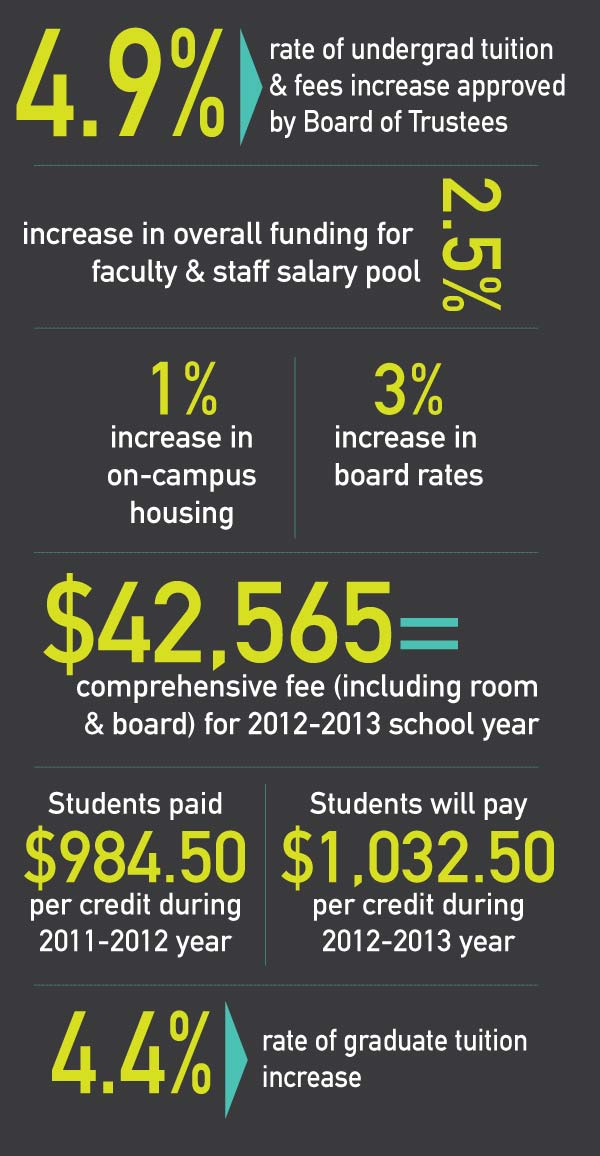 The budget will also include a 1 percent room increase and a 3 percent board increase, resulting in a comprehensive fee of $42,565 for the 2012-2013 school year; that is a 4.6 percent increase over this year's comprehensive fee.
Doug Hennes, vice president of university and government relations, said this year the university was able to moderate the increases.
"When we looked at all the budget requests we had and the revenue we had coming in… we project where we think our needs are going to be, and we were able to come in a little lower for next year than we did for this year," Hennes said. "I think that's positive."
Hennes said the minimal room increase was in an effort to stay competitive with off-campus housing, while the board increase came from a rise in food prices.
Along with the tuition increases will come a 7 percent increase to the university's financial aid pool and a 2.5 percent increase to the faculty and staff salary pool. Graduate fees will increase an average of 4 to 5 percent, depending on the program.
For the first time, the board also approved a facilities fee on the undergraduate level. Hennes said the fee had nothing to do with the opening of the Anderson Student Center or Athletic and Recreation Complex, but instead involves generating additional funding to pay for maintenance and repair for on-campus buildings.
"We have 73 buildings on this campus, and that's over 3 million square feet and of those buildings half are over 25 years old," Hennes said. "There's a lot of routine maintenance you have to do."
Full-time students will pay $75 per semester under the new fee, while part-time students will pay $37.50 per semester. Students taking a J-Term class on campus will be charged a $20 fee.
Hennes added that the fee alone will generate approximately $1 million. When added to the $2 million allotted to the university in its budget, St. Thomas will be able to complete a $3 million summer project agenda.
According to Hennes, without the facilities fee revenue, many of the university's proposed renovation projects would not be possible.
"We always carve a certain amount of money out of the budget every year for facilities, for maintenance and repairs. We've just found that in recent years, it just isn't nearly enough to keep up with what our needs are," Hennes said.
Although the university has added a new charge for its students, the board is trying to be mindful when approving tuition increases.
"The board's primary concern is to try and hold tuition increases as low as possible because they're concerned with keeping St. Thomas affordable in these economic times," Hennes said.
Hennes said that even though the university is increasing its tuition, he does not believe it will deter any incoming freshmen from choosing St. Thomas. The university's goal is to admit a 2012 freshmen class of 1400 students.
"We're right on target," Hennes said.
Sophomore Maureen Carberry said that she agreed that the 4.9 percent tuition and fees increase will not make much of a difference for the incoming class.
"St. Thomas is really popular right now, especially with the student center, our athletic building and how well our teams are doing and our new science buildings," Carberry said. "All this new stuff is happening, and I don't think 5 percent will make a difference at all."
Freshman Daniel Mastain also agreed and said his scholarship package from the university made him feel more comfortable about St. Thomas' prices. He also said he thinks other incoming students will be able to relate to his situation.
"I guess I can understand (tuition increases) from St. Thomas' perspective, but they give out lots of scholarships, so it's not that big a deal I don't think," Mastain said.
On the other hand, sophomore Laura Rosno said that she was aware the tuition would raise every year, but added that had it been any higher when she started at St. Thomas, she probably would've gone elsewhere.
"When you hear that there's going to be an increase and you hear just a percentage increase it makes it even harder because it's harder to conceptualize how much that will increase by. I understand that there needs to be increases, but it's difficult as a student to come up with the money to pay for it," Rosno said.
Other students, like senior Michael Truso, said that for a lot of students it comes down to the money, and high tuition could point them in another direction.
"I think if St. John's tuition ends up being cheaper because of these tuition rates, I bet we'd lose a lot of students to our closest competitor," Truso said.
Hennes said St. Thomas takes this into consideration and, "often (will) compare ourselves to the other privates because so many St. Thomas students or students who look at St. Thomas are also looking at other (Minnesota Private Colleges)."
Although many other Minnesota Private Colleges have not set their 2012-2013 budget yet, Hennes said he predicts many of the other schools will fall around the 5 percent increase.
"We think our rates will be pretty competitive with other schools," Hennes said.
Hennes also added that for the last five years, St. Thomas' comprehensive fee has been lower than the Minnesota Private College Council average. For the 2011-2012 school year, there was 4.6 percent average increase.
Briggs LeSavage can be reached at lesa4364@stthomas.edu.
Graphic created by Maggie Clemenson.