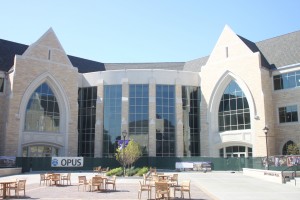 St. Thomas plans to enroll 1,350 first-year students for the 2012-2013 school year, and Kris Roach, director of admissions and financial aid, said the Anderson Student Center is one way the university plans to achieve that goal.
Roach said prospective student tours have been altered to "maximize opportunities (for) our prospective students and parents… to see the ASC."
She said that the university's facilities help students and parents develop an impression of where the student will spend four important years of their life.
"Our new ASC and the Anderson Athletic and Recreation Center make quite an impression," Roach said.
Tommie Ambassador junior Jaqi Childers has been giving tours to prospective students since her freshman year and said that the student center has added about 25 more minutes to her tours.
"They used to be an hour and fifteen minutes long, and we had to cut out quite a bit just to still fit in an hour and fifteen minutes… we go through all the floors (of the ASC)," Childers said.
Junior Nick Lewis said he has more students on tours this year than past years, and the majority of the tour is in the student center.
"I would see a lot of tour groups walking around Summit Avenue, whereas now it is more in the student center," Lewis said.
Childers said the student center has also taken a lot of focus away from the Anderson Athletic and Recreation Complex.
"The athletic center… we don't show nearly as much as we used to. It's not nearly as important," Childers said. "Families are always more interested in the student center though because obviously that is where their kids are going to be spending most of their time, same with dorms."
As a mother of a high school senior, Roach said that facilities are important but of equal or greater importance is the "quality of the academic experience, the availability of majors, the success of graduates, the sense of community on campus, the access to faculty and the overall feeling…a student has when they visit."
Patrick Roche can be reached at roch6667@stthomas.edu.