Doug Hennes, vice president for university relations, said in a Tuesday night West Summit Neighborhood Advisory Committee meeting that the university is considering other locations for new tennis courts, in addition to the originally proposed site behind Brady Educational Center.
The additional sites include the following: the Anderson parking facility roof; a South Campus parking lot; the South Campus quad between Cretin Hall, Grace Hall and BEC; and the parking lot space behind St. John Vianney Seminary.
St. Thomas has not made any final decisions, Hennes said. Although he said the only "feasible" site the university has considered is the green space behind BEC, he also described some of the other options the university is considering.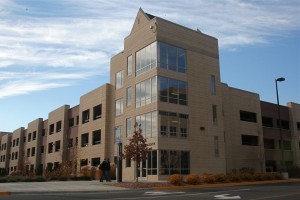 Other building options would mean loss of parking, restricted fire access
St. Thomas has considered building the tennis courts on top of the Anderson parking facility, but this would mean the new observatory would have to be removed, Hennes said.
The university is looking at putting tennis courts in Lot O, which is the parking lot on South Campus between Cretin and Grace residence halls, the McCarthy Gym and the Binz Refectory. With this option, St. Thomas would lose 175 parking spots, which could be replaced by another parking ramp, Hennes said.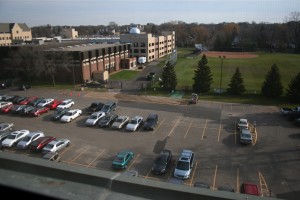 The university is looking at two configurations of tennis courts in Lot O. The more feasible option would include two sets of three courts, but this option would run fencing close to the entrances of the South Campus buildings, Hennes said.
"The other problem with the site is doing that would restrict fire access to not only those buildings but the south end of the parking ramp," Hennes said.
Utility tunnels could also be an issue, he said.
One idea that came out of last week's meeting was to build a deck over Lot O with tennis courts to avoid losing parking space, Hennes said. 
But the site would still mean tight access to the buildings.

The university is also considering tennis courts on the quad space behind Grace and Cretin Halls, but the grotto entrances would have to be reconfigured.
The final possible site is behind St. John Vianney Seminary, where the tennis courts were in the 1970s. This configuration would cause issues with access to Ireland and John Paul II residence halls, a loss of 50 parking spaces and would push against property lines.
WSNAC members suggested other options, such as building tennis courts on two separate areas or on the roof of the Anderson Athletic and Recreation Complex.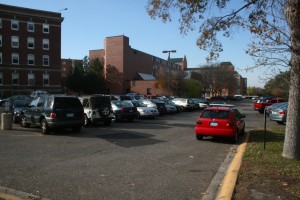 "I just ask people to keep an open mind in the process. … We'll keep other options in mind as we look on and off campus," Hennes said.
Neighbors felt "slammed"
More than 100 neighbors gathered at a WSNAC meeting Nov. 2 to express concerns about tennis courts.
"The meeting was informative and dramatic," said Scott Banas, WSNAC co-chair and neighbor. He said he supports the neighbors' opposition to the courts.
Some committee members, including Rachel Westermeyer, were frustrated that neighbors were not originally involved with the proposal.
"It suddenly got on the front burner," Westermeyer said. "I think it would have been better had it gotten on the front burner with everybody all on the same page. We all kind of got slammed."
WSNAC member Jeanne Matross said she thinks St. Thomas should respect the river.
"This is the Mississippi River, and it's designated as a national park, and your land is opposite the national park," she said. "So, in some respects, it's like building a tennis court next to Yellowstone or something like that. … This designation means St. Thomas has 'special responsibilities' to preserve this national asset."
WSNAC member Leo Viktora said St. Thomas had mentioned building tennis courts in previous years, but he said the neighbors were surprised by this year's proposal.
"I am cautiously optimistic about a fruitful discussion moving forward," Viktora said. "I appreciate that St. Thomas is going to look at other options now that they have looked at before."
Hennes said he had planned to present the plans in November or December, but neighbors started calling and sending e-mails about rumors.
"I wanted to bring [the plans] to WSNAC first, but unfortunately it got out ahead," he said. "I was doing rumor and damage control at that point."
WSNAC resolved to talk more about St. Thomas' future building plans on an annual basis at the beginning of the school year and then review progress in June.
Hennes said more information about the tennis courts would be announced at the next committee meeting at 6:30 p.m. Tuesday, Dec. 14, in Murray-Herrick Center room 155.
Theresa Malloy can be reached at mall5754@stthomas.edu.