Undergraduate Student Government elected three new members at its Feb. 26 meeting.
Louis Sand was elected freshman class president, Joseph Stoll as the junior class president and sophomore Sean Ness as the elections and credentials chair.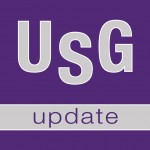 Both Stoll and Ness are new to USG while Sand previously served as one of the council's freshman class senators.
The newly elected class presidents said that planning events, giveaways and community service projects are their top priorities.
Sand said the freshmen class has a large budget, and he wants to put it to use this semester. He also added that he looks forward to planning events that the freshmen class will enjoy.
"I definitely want… to get a better feel for what the class would like," Sand said.
Stoll said he will work "to incorporate a lot of community service" and possibly with the sophomore class on a prom-themed dance.
"We're trying to actually team up with the sophomore class for this dance… to kind of just bring everybody together and make St. Thomas a better community," Stoll said.
As the new elections and credentials chair, Ness said he hopes to keep USG's elections process running smoothly.
Ness also said he would like to see higher voter turnout.
"It would be nice to get a higher turnout of students voting for these elections, so I'm going to plan on working with some committees to get that done," Ness said.
The council also approved two conference and competition requests from both the College Republicans and Delta Sigma Pi. The College Republicans group was granted $1,000 for a conference in Washington D.C., while the Delta Sigma Pi fraternity was granted $1,800 for a Leadership and Excellence Academies for Deltasigs (LEAD) Provincial Conference in Southbend, Ind.
Briggs LeSavage can be reached at lesa4364@stthomas.edu.