The class of 2010 will be the last class to receive a printed yearbook, as the Aquinas staff will launch an all-digital yearbook for the 2010-11 school year in early October.
"We have partnered up with IRT to put together a really great website with a lot more content and a lot more photos, something that wouldn't have been possible with the printed book," said Cecilia Petschel, Aquinas yearbook advisor.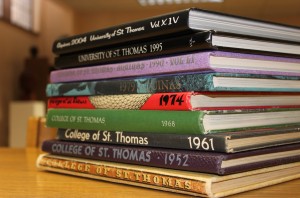 The discussion about going digital with the yearbook started in 2008. The decision was made this spring because of budget concerns, sustainability and accessibility, Petschel said.
"Instead of being limited by a printed number, now anyone can access the online Aquinas: current students, faculty and staff, alumni and prospective students," Petschel said. "And instead of getting rid of it, as many colleges and universities across the country, we are embracing current technology trends and putting the Aquinas online – keeping an important St. Thomas tradition."
The Aquinas staff is currently finalizing the yearbook's new website. The digital yearbook is expected to have space for unlimited copy and will include photographs and video clips. Petschel said she hopes to put all St. Thomas' old yearbooks on the website in addition to the new ones.
"A big part of St. Thomas is tradition and I think the access the site will allow people to have will be neat," Petschel said. "It's also going to give students more opportunities to showcase their talents and the more we give students opportunity to shine the more exciting it is."
Petschel also said there will be nostalgia for the print version after a change like this, but once people understand and accept the way media is moving forward, things will get better.
Ann Kenne, St. Thomas' head of special collections and university archivist, said she is concerned about the obstacles the digital yearbook will cause for her and others who want to look up archives in the future. But Kenne also said she believes "it has the potential to bring an experience back to people with its video features."
"Yearbooks are classic"
Some students are having a hard time accepting this change, especially this year's senior class, which won't receive print copies of yearbooks like previous senior classes.
"It's somewhat upsetting and I'm completely disappointed," senior Elina Shampan said. "Yearbooks are classic. I've had a yearbook from first grade all the way to 12th grade and I was really looking forward to having one in college, too."
Senior Samiah Al-Huthaili doesn't understand why they can't publish both printed and digital copies and said she's disappointed because her dad graduated from St. Thomas and lives overseas now. He's been looking forward to receiving a copy of her yearbook after she graduates.
But other students think it is a step in the right direction.
"I've never had a yearbook before since I'm from Morocco, but it'll be nice to have a digital one that I can show other people and not forget somewhere," said junior Hamza Jabri. "But as an engineer major, it shows what we're aiming for, excelling in the direction of new technology, and I think it's a good thing."
Ashley Stewart can be reached at stew1177@stthomas.edu.