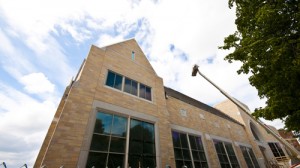 As I made the marathon walk to South Campus this winter and early spring to play basketball, I would tell myself it's going to be worth the wait.
As I worked on the third floor of the John Roach Center and had to listen to borderline ridiculous sounds of construction, I would tell myself it's going to be worth the wait.
Now with less than four months to go until the opening of the new Anderson Athletic and Recreation Complex, I'm really telling myself it's going to be worth the wait.
I feel like a kid who sees a present underneath the Christmas tree and knows it's exactly the bike he's been asking for, but can't open it yet. Except the bike is a $52 million athletic complex that's going to be the premier facility in the conference.
As an incoming freshman, the athletic facilities were far from a make-or-break factor in my decision to come to St. Thomas. But while working for equipment manager Willy McCoy in the first semester, I quickly realized the facilities were sub-par at best.
To this day I remember my first attempted backdoor cut drill on the third-floor gym surface. I went down like Happy Gilmore on skates. Not pretty, but very characteristic of the quality of surface we were on, and the third-floor gym seemed to embody the rest of our athletic facilities.
But with no signs of change in sight, like every Tommie I got used to what I had and learned to live with our athletic facilities. Aside from traveling to opposing arenas for basketball games, it was tough to see we were missing out on anything too great. We couldn't have it that bad, right?
That thought was fine until our friends up Summit Avenue hit us square between the eyes with the 175,000 square-foot Leonard Center. Macalester might as well have thrown an alarm clock at our heads and screamed, "Wake up!"
Lucky for us, the St. Thomas powers-that-be aren't heavy sleepers. They woke up to the tune of the largest project in St. Thomas history. The Scots may have beaten us to the punch, but we're answering with a serious swing. This place is going to be huge.
Two-thousand-seat basketball arena. Eight-lane pool. Two-hundred-meter track. New weight room and equipment. New aerobic rooms. And those are just the necessities.
The school is tricking this place out like an episode of "MTV Cribs: Athletic Centers."
An entire wall is going to be a touch-screen, interactive archive for the athletic hall of fame. People will be able to access archives dating back into the far reaches of St. Thomas College history. According to TommieMedia's latest venture into the building, there's going to be a scoreboard that drops down over the center of the arena. NBA-style, baby.
University Relations designers are having a field day planning how to make their new baby look its finest for its coming out party in August. Just to make sure they weren't dabbling too close to McDonald's Grimace territory, a unique "Tommie Purple" paint color was created.
Details like that are what makes me believe Vice President for Student Affairs Jane Canney when she says these facilities are going to be the finest in the MIAC. We're going to have all the high-quality things a top Division-III athletics school should have, and it's going to look good in the process.
I'm only going to get one year with the new complex, and I can still say with confidence: It's definitely going to be worth the wait.
Jordan Osterman can be reached at jrosterman@stthomas.edu.