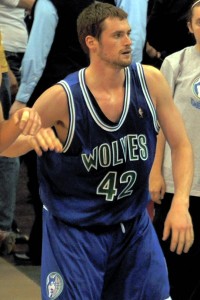 Being a Minnesota Timberwolves fan is not easy. I get it. But forward Kevin Love is making things a lot easier.
Currently, the T-Wolves are one of the league's worst teams, for the third year in a row, with a 13-39 record. Attendance is down and virtually nobody cares — but they should.
This season, for the first time since Kevin Garnett donned the "Blue and Green," the Wolves have an all-star in Kevin Love, but no thanks to us Minnesotans. To quote Anchorman's Ron Burgundy, Love is "kind of a big deal," but not big enough for Minnesota fans to vote him into February's All-Star game.
Instead, after initially being snubbed by coaches and fans, Love was named an all-star by NBA commissioner David Stern, after oft-injured Houston Rockets center Yao Ming needed to be replaced. Getting into the game by default is a travesty for a player who's arguably having one of the best seasons in the NBA.
Love leads all players in rebounding, posting an absurd 15.6 boards per game. He has compiled 38 consecutive double-doubles — the longest streak in the NBA since Moses Malone did it in the 1982-1983 season — and he averages nearly 21 points a night. In addition, K-Love posted the NBA's first 30-30 game since Malone did it in the '80s.
With his superhuman stats, Love has generated huge interest across the country. He made a cameo in an "Entourage" episode last season, is talked about nearly every time the T-Wolves play on SportsCenter, and is analyst Charles Barkley's favorite player.
So why can't Minnesotans, who are supposedly known for being so nice, show K-Love some love of their own?
I hope the reason is solely because the Wolves can't seem to find a way to win. And if that's the case, I get it, but let me remind you of something first.
In Garnett's first season with Minnesota, the team went 26–56. The next year, the T-Wolves finished 40-42. Winning in the NBA is a process, and it takes time to put together the right mix of players. The Wolves needed to surround KG with Stephon Marbury and Tom Gugliotta before the playoffs were even a question. One player can't do it alone.
Kevin Love may not be KG, but he rebounds better, he strokes the three better, and his outlet passes are the best the league has ever seen. At only 22 years old, Love is not even close to being in his prime, and the sky is the limit for his future. With the NBA's youngest team surrounding him, Love could be on track to duplicating the success of the "Garnett" years, but that may not happen if fans don't start showing him a little "love" now, especially with only two years remaining on his contract.
My advice? Jump on the bandwagon. Go to some games. Embrace your NBA franchise. Let's keep K-Love in Minnesota for as long as possible. The wins will come – just be patient. It's possible I'm wrong, and should just stop sipping the Kool-Aid, but three years from now the Timberwolves will be a playoff contender again.
Ryan Shaver can be reached at shav7005@stthomas.edu.