Every student has to fit three required theology courses somewhere in his or her undergraduate education at St. Thomas. Coming from a public high school, I did not have the opportunity to take a religious course or mix religion with school at all. I was excited to take my first required religion course, but for others it was not their first time going through the material.
If I take an introductory theology class, shouldn't I be with other students who are on the same level of religious knowledge? There should be a theology placement test to place students into the appropriate level of theology courses.
According to the St. Thomas Undergraduate Cohort Report, this fall roughly 400 of about 1,500 first-year students came from a private religious high school. A little less than one third of first-year students are about to learn theology material in college they've already learned in the last four years of high school.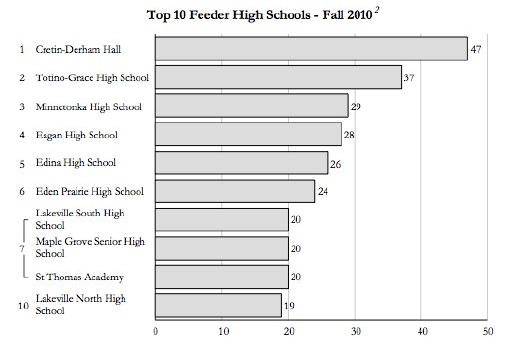 The report showed the top two high schools students came from this fall were Cretin-Derham Hall and Totino-Grace High School. It also showed private high school student enrollment at St. Thomas continues increasing, meaning more students are attending St. Thomas with prior religious course experience.
I learned in my freshman year theology course that some students were far more educated and comfortable taking a religion course than I was. While I stressed and studied new material for the quiz, exam, mid-term or final, other students didn't have to open the Bible or textbook.
I felt behind on material in comparison to seminary students, former private high school students and students who were more "Catholic-knowledgeable." Other students didn't have to study for the course and could submit a high school paper or speak about common religious topics that were drilled into their minds in high school.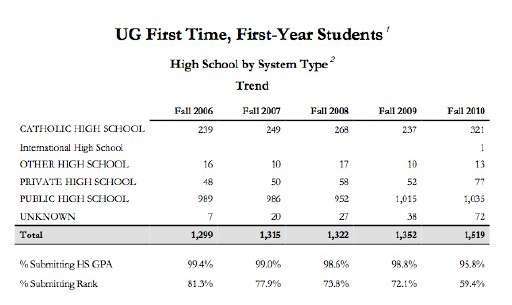 This circumstance is equivalent to a 300-level Spanish student who has to learn basic numbers and the alphabet in a 100-level course. The student is not challenged.
The St. Thomas theology department webpage says the theology 101 course "provides students with a basic level of theological literacy to prepare them for the second- and third-level courses." A seminary student or former private high school student is not going to want to re-learn "basic" knowledge.
Seminary students are those who should be placed in a higher level. They are great assets to theology classrooms and have contributed valuable, philosophical insights in all my courses so far. However, it does not seem logical that I have to learn the material fresh, and they get to review their abundance of knowledge about the topic to earn a top grade.
They should have a chance to reach their potential by being placed into a course that challenges their knowledge and not have to review the Adam and Eve story again.
St. Thomas students are required to take at least three language courses and are required to take a language placement test. If a student tests out, that student does not have to take a language course, meaning their previous years studying a language paid off. It should be the same for theology courses.
Former private high school students probably don't want to waste at least $9,000 and three more class periods studying a subject they've been learning for years. A 300-level student isn't interested in learning about basic Genesis stories.
I understand St. Thomas is Catholic-based and realize religion courses are required. That was a primary reason I chose to enroll here. I'm not trying to say 'Get rid of the theology requirement' or even place out of the three courses, but rather to place students into the appropriate courses to fit their level of knowledge.
First-time students should take a religious course with other first-time students. Students who already have religious knowledge should be placed into an appropriate level so they can be challenged. A theology placement test would be the perfect solution for students to reach their religious education potential.
Hannah Anderson can be reached at ande5385@stthomas.edu.