My dad texted me his motto for the week, "Let light triumph over darkness. Be sure what light is before you engage."
Despite coming from a borderline atheist household, my family still acknowledges certain religious holidays, such as Diwali. In one simple text, my dad described the significance of the Indian holiday that can be applied to all human life.
For those who are hearing about this festival for the first time, Diwali is commonly known as the "Festival of Lights." The word itself is a contraction of "Deepavali," which translates into "row of lamps."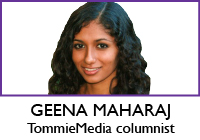 During the celebration, ornately decorated diyas (a type of candle made from clay with a cotton wick dipped in ghee or vegetable oil) are lit. In India, the streets are filled with bright, vibrant colors from flowers and the female's clothing. Beautiful prayers are sung out loud, firecrackers explode in the air and families bring out their most delicious Indian treats to eat on this momentous occasion.
Diwali is a national holiday in India, Nepal, Sri Lanka, Myanmar, Mauritius, Guyana, Trinidad and Tobago, Surinam, Malaysia, Singapore and Fiji. Since my dad is from Trinidad, and my mom is from India, and my family as a whole is fundamentally religion-less, celebrating Diwali at the Maharaj's is quite different than a typical celebration. We focus a bit more on the food component (naturally) by eating delicious "Trindian" food such as baigan (mashed eggplant), tomato choka, dal (mashed lentils), channa (garbanzo beans), accompanied by roti (think fluffy tortillas) and wine, of course.
My grandma, mom, sister and I dressed in traditional Indian attire. My mom wore a deep red kurti (a long blouse), while my sister and I sported a type of salwar kameez that included a long, decorated blouse with colorful pants and a chunni, or scarf.
So why learn more about a holiday you may never celebrate or hear of again? Believe it or not, Diwali is applicable to your life. Regardless of your religion or ethnicity, you can learn a great deal from the holiday's meaning.
The clay diyas are lit to signify the victory of good over evil. This triumph refers to possessing higher knowledge (or light) ousting all ignorance that basically blinds us from reality. In turn, the awakening brings about anand, or joy and peace. In simple terms, Diwali is analogous to birthdays. We celebrate our day of birth and blow out birthday candles, and on Diwali, people celebrate the birth of the inner light and light diyas.
Those who celebrate Diwali aren't the only people who possess this inner light. You do too. My understanding of this light is that it's an abstract awareness of our "good" actions (you'll probably never find a simpler definition than this). In my dad's text, I felt that he was saying to let this light take over the darkness, or the "bad," in life. However, it's important to be able to distinguish what the light really is. When you differentiate the light from the dark, or the good from the bad, you're capable of being at peace.
I've come to find that part of my inner light comes from helping others. In any way I can guide someone in a direction that will better her/himself, I do so, and this guidance brings forth happiness in my life.
This introspective light comes in many forms though, and it's in us all. I've never been much of a spiritualist, and philosophy is far from my forte, but I believe that if we can focus on that inner light, the world will be a better place.
Happy Diwali, everyone!
Geena Maharaj can be reached at maha8007@stthomas.edu.