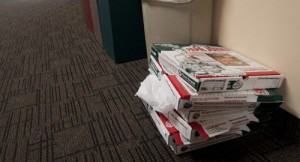 College students are pressed for cash, especially near the end of the semester. But if you're running low on meals, just stroll through O'Shaughnessy Educational Center during convocation hour and pick up some pizza from a club meeting. After all, you're paying for it.
Student activity fees from your pocket go to the Undergraduate Student Government and are then allocated to the 130 clubs and organizations on campus. So, how do you feel paying for someone else's board game night, ping-pong tournament or fishing weekend?
Student activity fees are going up. This school year, the fee was $102 per semester ($51 for part-time students). Next year, the fee will be $105.50 per semester for full-time students. It's a slight increase, but it adds up quickly, especially with tuition and housing increases. And it's important that the roughly $181,000 given to clubs and organizations this past year only goes to clubs that deserve the money.
I find it unsettling how many clubs are on campus relative to membership. To start a club, you only need 10 people and a faculty advisor. You must hold at least three meetings and each member must complete 1.5 service hours. You have to fill out a form and submit it to Student Life. Then it goes to Campus Life and, finally, gets approved by USG. Then you're in.
With an undergraduate enrollment of about 6,100 students, you only need 10 people to start a club. That's only a little more than 0.1 percent of the undergraduate population, but that small percentage of students can receive a maximum of $750 to fund the club's first year. That's a lot of money for a small number of students.
Regulating clubs
Clubs and organizations are supposed to benefit the larger community and have a purpose that fits St. Thomas' mission statement and vision. But some club descriptions only seem loosely connected to the mission statement.
The Table Top Gaming Club's mission, for example, is, "to engage students of UST by having fun and creating social networks in casual tournament style settings. Through games such as Risk, collectable card games, and fantasy role-playing games which will increase a student's use of strategy and critical thinking."
How is that different than casino nights hosted by STAR or game nights sponsored by residence halls? Maybe strategy and critical thinking could best be learned through the budgeting, advertising and other management skills required to run a club that more people can be involved in.
There are just too many clubs, and often it's difficult to distinguish between one club's goals and another's. I find it ironic that multiple sustainability groups exist. It doesn't surprise me that a Catholic school has many Christian groups, but there's a club called Christian Leaders and its purpose is to "unite various Christian organizations on campus by bringing representatives from all of the Christian clubs and organizations on campus."
I would rather see these clubs unite and receive a pool of funding instead of separate funding in addition to a paid leadership board.
How USG deals out the money
Brady Narloch, USG vice president of financial affairs, said during his four years on USG, he can only think of one or two clubs that haven't been approved.
"When it comes to USG's viewpoint on the matter, we should really be giving the benefit of the doubt when it comes approving clubs," he said.
By the time clubs go to USG for final approval, "they've already been through a significant vetting process," Narloch said.
Narloch said USG tends to allocate money to clubs and organizations that have more detailed budget forms. He admitted the system isn't perfect, but said USG tries to do the best it can to give the money out responsibly.
"We don't have time and resources to look into all the clubs and look into what they say they're doing," Narloch said regarding whether USG makes sure clubs fulfill the USG requirements. But he added that USG has increased the number of finance board members and those members check if students in charge of clubs and organizations use their funds for what they said they would.
Clubs should help create life skills
I don't think all clubs are bad. I'm actively involved in some clubs on campus. Students benefit from clubs that give back to the community and enhance academic or spiritual development. Students can also get valuable experiences that apply to career and life situations. That's the goal of college, right? To make students better citizens of the world so they can function in post-college life.
We need to re-evaluate how clubs come into existence and whether they benefit the community, especially since students pay for the funding. I would like to see stricter regulation of club funding and more investigation into whether clubs meet requirements. I want my money to go toward the greater community instead of paying for another student's pizza lunch.
Theresa Malloy can be reached at mall5754@stthomas.edu.