Most St. Thomas students use only two of the university's campuses – St. Paul and Minneapolis. In fact, some students may not even be aware of the Bernardi Residence in Rome, Italy and the Gainey Conference Center in Owatonna, Minn.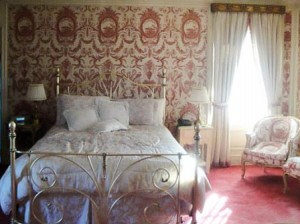 The latter is mainly used for retreats throughout the year, hosting a variety of student groups.
I believe that every student should visit the Gainey Center at least once during his or her four years at St. Thomas.
The Gainey Center is part original home of Daniel C. Gainey, part conference center.
Gainey is perhaps best-recognized for serving as the president of Jostens. His beautiful French Norman-style residence was completed in 1957 and the property bequeathed to St. Thomas upon Gainey's death in 1979.
I was lucky to have my first experience with the Gainey Center in the very beginning of my college career on the freshman retreat. The event was through Campus Ministry, but many other groups at St. Thomas including Liturgical Choir, Student Alumni Council and the Aquinas Scholars program host retreats at Gainey also. In fact, every organization at St. Thomas has the right to use it.
Upon stepping onto Gainey ground, I sensed a complete atmosphere change. The land surrounding the center is vast and unoccupied; the fresh air untouched by the city's smog. This is one of my favorite things about Gainey; it's a chance to get away from the constant buzz of college life and just relax.
While at Gainey, you are on a retreat with a limited number of people from your organization. Spending all day together forces you to examine your relationships with the others on the retreat from a different perspective. Personally, I have also done some of my most significant individual growth at Gainey away from the distractions of everyday life.
Besides the atmosphere, the next best thing is the food. If you think St. Thomas doesn't get much better than Mary's sandwiches, you may need to try the Gainey grub and rethink your conclusion. The staff that serves your food is extremely amiable and accommodating. I once asked my server if Shirley Temples were on the menu, and even though she said no, she went to the trouble of trying to make one anyway.
Of course, not everyone has time to get away, even if just for the weekend.
Senior Stefan Wolf said he has never been to Gainey and probably won't go before he graduates.
"I have a heavy class load, and I work every weekend," Wolf said.
Still others that haven't gone, such as sophomore Rachel Murray, say they may go in the future.
"I just never got any information about it, or I saw it and just kind of wrote it off," Murray said. However, she said she has "seen pictures (and) it looks super nice."
She added, "I probably wouldn't want to go alone, but if someone else was going, I would look into it."
So students of St. Thomas, based on these experiences, peaceful location and cheerful staff, I think it's worth giving up one weekend to spend a few days unwinding at the Gainey Center. And you don't have to go on three retreats (yes, that's my count so far) to get the full experience. All I'm asking you for is one.
Rita Kovtun can be reached at kovt1547@stthomas.edu.