Palmer Field will be the stage this Saturday for one of the biggest MIAC games of the season: the No. 4 ranked Tommies vs. the No. 20 Bethel Royals.
Both teams are undefeated and atop the MIAC, and Saturday's winner will be the clear front-runner in the race for the conference title.
Saturday will be the first game between nationally ranked teams at Palmer Field since Division III rankings were established 11 years ago, said Gene McGivern, sports information director.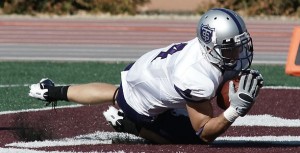 Not to mention Saturday is St. Thomas' homecoming game. The stands could see as many as 7,000 fans, the largest crowd ever for a game other than Tommie-Johnnie, McGivern said Tuesday on TommieSports.com.
Senior linebacker Tommy Becker said the practice atmosphere Tuesday was exciting.
"It's a big week because we put ourselves in this situation … because of how hard we've worked and what we've done in the past," Becker said.
There are some interesting dynamics between the MIAC co-leaders: Bethel has the best defense in the conference and St. Thomas has the best offense. The Royals have the best running back in the conference and the Tommies have the second-best run defense — behind Bethel.
Tommie defense vs. Bethel offense
The backbone of the Bethel offense is running back Logan Flannery, the MIAC's best rusher. Flannery averages 125 rushing yards per game, has scored nine touchdowns and leads a rushing attack that runs for 233 yards per game this season.
With Flannery and junior quarterback Josh Aakre, the Bethel offense scores more than 33 points per game. Flannery averages more than nine points per game by himself.
But Flannery and company won't be facing just any old defense. Becker said he's amped for the challenge Saturday.
"This is a linebacker game," Becker said. "When they say they're going to line up and try to run the ball on you, I take that personally. It's going to be a fun one."
Senior defensive back Brady Ervin, a key player in the conference-best Tommie pass defense, earned his second MIAC defensive player of the week honor in last week's 61-17 win over Hamline. Ervin scored a touchdown off an interception in the second quarter to give the Tommies a 27-0 lead.
Others, such as linebackers Becker and junior Willy Baregi, also have been defensive playmakers for the Tommies. Becker is in the top ten in tackles and fumbles forced (2) and Baregi leads the conference in two categories: tackles for loss and fumble recoveries.
Tommie offense vs. Bethel defense
While the Tommie defense has been good this season, the Bethel defense is statistically better.
Much of that can be attributed to last week's win over Gustavus, when the Royals held the Gusties to an astonishing -6 rushing yards and 93 total offensive yards on the day. Coming off that game, the confident Royals defense could be a challenge for running backs Ben Wartman, Colin Tobin and the offensive line Saturday.
Bethel's defense allows roughly 12 points and 224 yards per game — both stats are the best in the conference. The team also has 20 sacks this season.
The Bethel defense has some stellar playmakers in junior cornerback David Vavra, junior linebacker Billy Morgan and senior defensive lineman Peter Sontag. Vavra has four interceptions this season, Morgan is third in the MIAC in tackles and Sontag has six sacks.
But Tommie quarterback Dakota Tracy will take the snaps Saturday, and he's got history on his side: Tracy's record as a starter is 11-0.
Tracy has had plenty of throwing targets lately in junior receiver Fritz Waldvogel and sophomore tight end Logan Marks. The two have combined for 359 receiving yards and five touchdowns in the last two games.
Historical stats
— The Tommies are trying to go 8-0 for the first time since 1956.
— Wartman needs two touchdowns and 293 rushing yards to break St. Thomas' all-time records in those categories.
— Waldvogel is second all-time in career receiving yards and all-purpose yards, and he's only a junior.
If the Tommies win Saturday, they'll be one step closer to a MIAC championship.
"We know that this year we control our fate, which in the past couple years, we couldn't say that we'd done that," Becker said. "It's just a good feeling that all that hard work has paid off."
Kickoff is 1 p.m. Saturday.
Miles Trump can be reached at mttaylorjohn@stthomas.edu.