Tommie fans could not have asked for a better setting for Saturday's second-round victory over Coe College. With the sun shining and temperatures in the high 40s, fans filed into O'Shaughnessy stadium to cheer St. Thomas onto victory.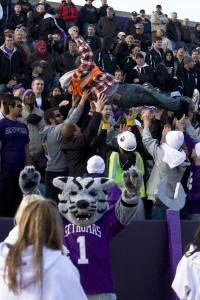 In the stands were not just students but also many alumni. Some former Tommies had not been to a game since their college days and others have made Tommie football games a tradition on autumn Saturday afternoons.
"I do not come to many games anymore, but I had to jump on the bandwagon for this one," said Jim Miller, a St. Thomas graduate of 1978. "One e-mail and we are all here."
Alumni crowd Morrison Plaza
Miller and several members of the 1978 class gathered at the Morrison Plaza to share memories of their years at St. Thomas as well as watch the Tommies crush Coe 34-7. In addition to Miller and his friends, more than 200 total former Tommies crowded the plaza to catch up with old classmates and teammates.
Conversation eventually led to comparisons between this year's squad and teams from years past.
Former Tommie wide receiver and 1977 graduate Rick Nelson claims to have had the first 4.4-second 40-yard dash in program history. He came to the game to watch another explosive St. Thomas wide receiver in sophomore Fritz Waldvogel. Waldvogel didn't disappoint as he finished the day with six catches for 123 yards and a score.
"I only come to about one game a year," Nelson said. "This is my first this year and it has been a good one so far."
Those who wear No. 7 hit hard
While the legacies of these former players may have faded away a bit, some current St. Thomas players are keeping the history alive. Safety and captain of the 1973 team, Jim Kampaimen, said his old jersey – No. 7 – is represented well with hard-hitting junior defensive back Bryan Villar.
"I like that legacy," Kempaimen said, watching Villar lay out a Kohawk with a big hit. "That guy can really hit."
As the game came to a close, the guys started to go their separate ways, some with many miles to drive home. Yet it appeared to seem worth the time to reflect on their college days.
"It was awesome seeing those guys again," said 1976 graduate Tim Lucey. "Those guys are football legends and it was good to see such a good turnout today."
Brian Matthews can be reached at bsmatthews@stthomas.edu