After the Tommie football team's impressive 40-7 victory over the St. Norbert Green Knights in De Pere, Wis. last Saturday, junior quarterback Dakota Tracy and coach Glenn Caruso echoed similar statements: There's still plenty of room for improvement on this football team.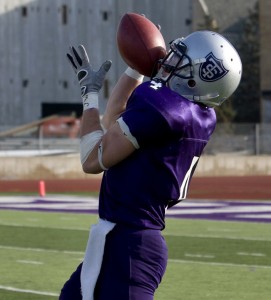 Caruso said the team will work on a number of different things in practice this week to prepare for Saturday's home opener against the Wisconsin-River Falls Falcons.
"Eliminate mistakes, that's number one, and obviously ball security is part of that," Caruso said. "Number two is to start to play fast. Right now, I'm pretty sure if you asked every single player what they should do on each play they would know, but now [we're] making it memorization so they're not thinking about it, they're doing it."
The Tommies will have another chance to put some large numbers up on the scoreboard during Saturday's non-conference game against the Falcons. The Falcons, ranked last in scoring defense last season in the Wisconsin Intercollegiate Athletic Conference, collected only one conference win and went 3-7 last season.
But River Falls could've been a few lucky breaks away from a winning season — the team lost three games last year by a combined seven points. St. Thomas isn't overlooking the Falcons, which returned many of its offensive leaders and defensive players from last year.
"They're going to be a good team," Tracy said. "As long as we make corrections and not focus too much on [the St. Norbert] win but focus more on River Falls, I think it will be good."
The Falcons lost to No. 11 Ohio Northern 35-21 in its season opener Sept. 2 in Ada, Ohio after leading at halftime. Senior running back Taylor Edwards, who ranked second in the WIAC in rushing last season with 107 yards per game, carried the ball 30 times for 191 yards and two touchdowns.
Edwards will have to rush against a Tommie defense that allowed only 69 rushing yards in its first game. The outcome of the game could depend on the Tommies' ability to slow Edwards down.
The Tommie defense will also have to contain senior quarterback Ryan Luessenheide, who has returned as the starting quarterback after helping lead an offense that averaged a solid 27 points per game last season. Lussenheide went 12-23 with one touchdown and one interception in the Falcons' season opener.
Junior Greg Morse, the Tommies' No. 2 quaterback, could play a bigger role this Saturday than he did against St. Norbert – 1-6 with 6 passing yards – if the Tommies choose to attack a River Falls defense that yielded 280 passing yards per game last year.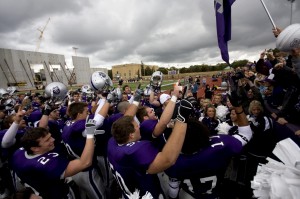 The Falcons have a solid kick returner in junior Greg Klingelhutz, who averaged more than 23 yards per return last season and returned a kickoff 91 yards for a touchdown. He will be matched by the Tommies' junior kick returner Fritz Waldvogel, who's coming off back-to-back 40-yard and 43-yard punt returns that helped set up two scores at St. Norbert last Saturday.
Tracy said the upcoming game "is going to be high emotion," but after the St. Norbert victory Caruso stressed the importance of improving the Tommies' stamina before the match-up this Saturday.
"We had some scrimmages [earlier this season], but now you get out here on offense and we have three drives that are thirteen plays or more, so we need to get our game legs back," Caruso said.
The Tommies are looking to defeat the Falcons for the first time in 22 years. The programs have met just 10 times in school history; the last meeting was in 1995.
Miles Trump can be reached at mttalyorjohn@stthomas.edu.