Like St. Thomas, Linfield College has won each of its two playoff games handily and now the two teams meet Saturday in McMinnville, Ore., to see who advances from the round of eight to the final four.
With a potent passing attack that averages nearly 275 yards per game and 43 points per contest, the Tommie defensive backs will be busy Saturday in McMinnville, Ore. But that's just one of the intriguing matchups Saturday will produce.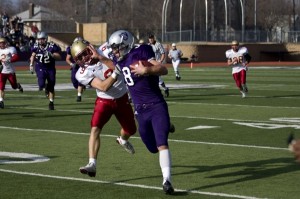 Tommie offense vs. Wildcat defense
The Linfield defense has produced modest numbers this year, allowing 193 passing yards and 106 rushing yards. The Wildcats have also not faced a running back like Ben Wartman or an offense like St. Thomas' that averages nearly 41 points per game.
After rushing for 236 yards against Coe College Nov. 28, Wartman has now run for 1,684 total yards and 20 touchdowns this season. The junior rushes for more than six yards every time he touches the ball and he averages 140 yards per game. Wartman's backup Colin Tobin has added 10 rushing touchdowns and an average of seven yards per carry. The Tommie rushing attack averages nearly 260 yards per contest, a number that Linfield opponents haven't come close to reaching.
The Wildcat defense will count on its veterans up front to counter the Tommie rushing game. Senior linebacker Jaymin Jackson and junior defensive end Eric Hedin have combined for 27 tackles for a loss this season and will play a vital role in containing Wartman and the Tommie offensive line. Sophomore safety Drew Fisher leads the Wildcats' defense with 58 tackles, while senior linebackers Paul Partlow and Alex Tkachuk also have more than 50 tackles.
Tommie air attack needs to complement dominant rushing game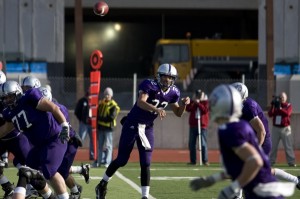 The Tommie passing game has been a good complement to the prolific rushing attack, averaging 179 yards a game while rotating between sophomore quarterbacks Greg Morse and Dakota Tracy. With both quarterbacks nursing injuries, Morse got the call against Coe. Morse ended up having one of the better games of his career.
The sophomore went 11 for 16 for 196 yards while throwing two touchdowns and rushing for another. Morse has thrown 11 touchdowns and 10 interceptions on the season, while Tracy has thrown nine touchdowns and only two interceptions. Sophomore Fritz Waldvogel, the Tommies' most dangerous receiver, had six catches for 123 yards and a touchdown against Coe. His big day brought his season totals to 78 catches for 1,012 yards and six touchdowns.
The Linfield defense has several play makers in its secondary as the defensive backs have recorded a total of 27 interceptions this year. Fisher and fellow sophomore Nate Dixon have five interceptions each and have combined for 13 pass breakups. Jackson and sophomore Taylor Skore each have three interceptions. Up front, the Wildcats' defense has been solid against the pass, registering 36 sacks. Hedin leads the team with 5.5 sacks, while senior Ian Estrada has five. The Tommie offensive line, which has allowed only three sacks this season, will be faced with the challenge of containing a deep and productive defensive line.
Linfield offense vs. Tommie defense
The Tommie defense has been lights out against the run and inconsistent against the pass this year. Tommie opponents are averaging 92.2 rushing yards and just 14.3 points per game, but 184.3 passing yards per contest. Coe recorded only two rushing yards against the Tommies last weekend as backup quarterback Jared McNutt threw for 219 yards and was intercepted three times. The Tommies look to have similar success against the run and forcing turnovers versus Linfield, but will be facing a superior offense that averages nearly 43 points per game.
The Linfield rushing attack has been solid, averaging almost 170 yards per game. Sophomore running back Aaron Williams has been the Wildcats' top rusher, averaging 4.6 yards per carry with 10 touchdowns. Junior quarterback Aaron Boehme is averaging 7.2 yards per carry and has nine touchdowns.
Linfield QB Boehme will give Tommie secondary a challenge
While the rushing defense has been a strength of the Tommies, the passing defense has been somewhat of a concern. Linfield averages nearly 275 yards passing per game, providing a looming challenge for Tommie defensive backs.
Boehme has had a monster season, passing for 2,727 yards and 31 touchdowns with only eight interceptions. Linfield senior Trev Patterson has 67 catches for 1,096 yards receiving and has found the end zone 16 times. Aside from Patterson, Boehme has spread the ball around, as three other Wildcat receivers have at least three receiving touchdowns.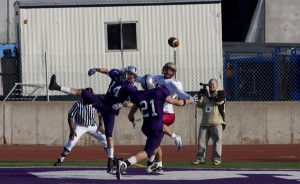 Junior safety Brady Ervin leads the Tommies with four interceptions, while senior Kris Kopp and junior Kirk Baglien each have two. The Linfield offensive line has allowed only six sacks all season, presenting a major challenge for Tommie pass rushers. Junior defensive lineman Cyrus Allen leads the Tommies with 4.5 sacks.
St. Thomas looks to have the edge on special teams with Waldvogel
Special teams often prove to be the difference in a playoff game and Tommies may have an edge.
With the best return man in country, the Tommies rely on MIAC MVP Waldvogel for a spark in the return game. Waldvogel averages 14.3 yards per punt return and 37.4 yards per kick return with six total scores.
But the Wildcats have allowed meager yardage in the return game. Linfield gives up just 9.4 yards on punt returns and 18.4 on kick returns and haven't allowed a special teams touchdown this season.
Matchups to keep an eye on

The Tommie defensive backs against Patterson
Patterson, the top receiver in the Northwest Conference, will be one of the toughest receivers the Tommies have faced in 2009.
Wildcats' front seven against the Tommie offensive line
The Tommies' running game will be a handful for the Linfield defense. With three senior linebackers and a core of penetrating defensive linemen, this matchup will play a major role in the game's outcome.
Danny Grimmer can be reached at degrimmer@stthomas.edu