After leading the St. Thomas football team to its best season in school history, coach Glenn Caruso has two trophies to add to his collection. On Monday, he was named Liberty Mutual Division III coach of the year. Earlier this month, the fourth-year coach was named the Division III National Coach of the Year by the publication American Football Monthly.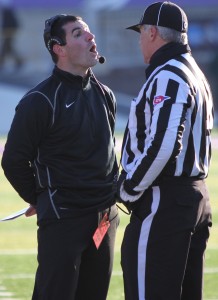 It is the second year in a row Caruso has won the Liberty Mutual award. Fan votes contributed 20 percent to each coach's final score, and the media and College Football Hall of Fame ballots accounted for 25 percent and 55 percent, respectively.
Liberty Mutual will make a $50,000 charitable donation on his behalf, which Caruso has designated to St. Jude Children's Research Hospital; Bucky's Pride; and the Ronald McDonald House Charities, Upper Midwest, in Minneapolis. Liberty Mutual also will make a $20,000 scholarship donation to the St. Thomas Alumni Association in his name.
The football magazine honors six coaches nationally each season, from FBS, FCS, Division II, Division III, NAIA and junior colleges. Other 2011 recipients included Mike Gundy of Oklahoma State; Willie Fritz of Sam Houston State; John Wristen of Colorado State-Pueblo; Ted Karras, Jr. of Marian (Ind.), and Buddy Stephens of East Mississippi Community College.
"It's just another very positive indicator that our program is heading in the right direction," Caruso said. "When I say, 'we're heading in the right direction,' it's not one person, it's not the staff, it's not just the program, it's the entire community that revolves around St. Thomas football. I'm pretty proud of that."
Caruso also said he was "very surprised" to be this year's winner.
"Awards are not really things that are on my radar so I didn't really even know when or where something like this was coming. There are some great coaches out there that won a lot of football games. For us to be able to win an award with competition as stiff as that is an absolute honor."
Senior defensive lineman Danny Kane said that the honor was "well-deserved."
"(Caruso) puts in so much time and is so dedicated throughout the season to help our team achieve its goals," Kane said.
Last year, Caruso, at age 36, became the youngest winner of the Liberty Mutual award.
Since taking over the 2-8 Tommies in 2008, Caruso has orchestrated the best four-year turnaround among all 640 NCAA football programs. Over the last four seasons, Caruso has led St. Thomas to a 43-7 record: 7-3 in 2008, 11-2 in 2009, 12-1 in 2010 and 13-1 this year.
This season, the Tommies were No. 3 in both Division III polls for much of the year before losing in the national semifinals to eventual champion Wisconsin-Whitewater. The Tommies ended up ranked fourth by D3football.com and the American Football Coaches Association. Last month, Caruso's peers voted him the MIAC Coach of the Year for the second year in a row.
Ryan Shaver can be reached at shav7005@stthomas.edu.