As St. Thomas coaches recruit new student athletes, many focus on academics as well as athletics.
Across the sports, many coaches at St. Thomas said they want to make sure the students are making an informed decision to attend the university, instead of "selling" the school or the team to the recruit.
"I think there is a common misconception out there because there is very little 'sales' that goes into the recruiting process," football coach Glenn Caruso said. "What we find is that the players who are most successful on or off the field are the ones who choose this place for the intangibles, for the attitude, demeanor, and the idea of the team concept."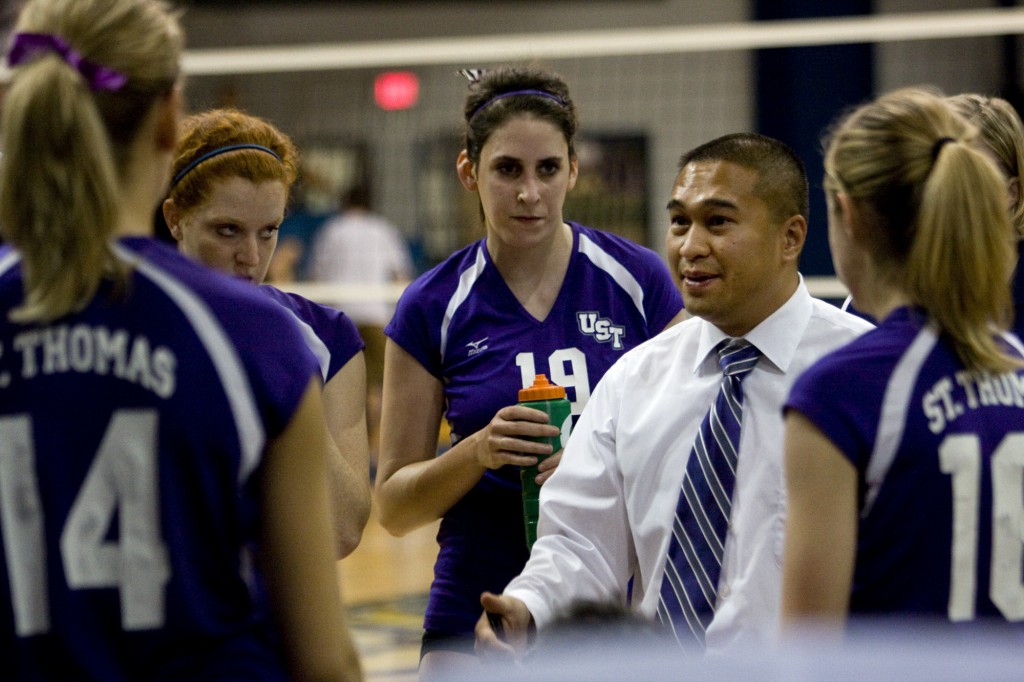 But Division III recruiting is different than in Division I.
"Athletes are expected to be students first yet still have a very fulfilling and successful athletic career," volleyball coach Thanh Pham said. "We talk about having a set of priorities in life and for us it goes: faith, family, school, and then volleyball. If volleyball is placed higher than any one of the three mentioned ahead of it, it won't work out here."
Assistant men's basketball coach John Tauer said recruits should come to St. Thomas for other reasons than basketball.
"I'll always tell players you shouldn't come to St. Thomas because of basketball, that sports shouldn't be the only reason," Tauer said.
Senior Tyler Nicolai, a guard on the men's basketball team, said his decision was based partially on academics.
"I wanted to make sure that the school I chose was very good academically," Nicolai said. "The coaches told me, 'Just make sure you choose the school that best fits you and that you could see yourself attending, even if the athletics don't work.'"
Men's soccer coach Aaron Macke looks at academics at the beginning of his recruiting process because athletes must have the academic merits to be accepted into St. Thomas.
"We've been watching St. Thomas' average GPA and ACT scores increase over the years, and the standards are being set higher," Macke said. "One of our first priorities is that we want to make sure they can get into the school."
But Macke said recruiting is not just about academics.
"It sounds nice to say that we want someone who is nothing but character, is a true team player, meets the values of our coaching staff, and is a wonderful student, but you need to take this with a grain of salt," Macke said, "We're also looking for physical specimens; we're looking for great athletes, speed, quickness, and in our case, men who are going to dominate their sport."
Because St. Thomas is a Division III university, it does not award athletic scholarships to athletes.
"If athletes are being recruited by Division I or Division II schools, they could be offered scholarship money, but we have no control over that," Tauer said. "Here we have to explain to athletes that we have need-based aid and merit-based aid for academics, but there aren't athletic scholarships."
However, Pham said the lack of scholarships is a benefit.
"It ensures students are not influenced by money," Pham said. "[They] make the choice based on the education they will receive along with the athletic experience of competing for MIAC and national titles."
Softball coach John Tschida said he often competes with Division I and Division II schools for these athletes.
"If I'm competing against Division III schools, I'm probably recruiting the wrong athlete," Tschida said. "To compete for a national championship every year, you can't have a Division III mentality. You have to go after the best kids."
Tschida said without scholarships, he doesn't know who has committed to St. Thomas until fall.
"It would be nice if there was a definite confirmation that students were coming to a [Division III] university comparable to an athletic scholarship," Tschida said. "For example, If I knew for certain that this catcher was coming, I could stop going after those eight other catchers I was looking at."
While St. Thomas may lose some recruits to bigger schools, the university can offer a lot to a student-athlete, Tauer said.
"We have a unique story to sell here," Tauer said. "A student who comes here can really get a good top-notch education, [can] play for a nationally ranked sports team, and be in a metropolitan area that is so vibrant both socially and economically."
Dan Cook can be reached at Cook9156@stthomas.edu.