After upsetting Monmouth College in the first round of the NCAA playoffs, No. 10-ranked St. Thomas will flip to the role of the favorite when the Tommies battle Coe College Saturday at noon, in O'Shaughnessy Stadium.
Before St. Thomas takes the field against Coe, there are plenty of questions to be answered about what kind of team the Tommies will be facing.
Who are the Kohawks?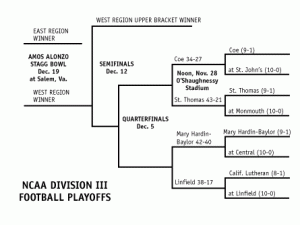 Coe plays out of the Iowa Intercollegiate Athletic Conference, the Iowa counterpart to the MIAC. And similar to the Tommies, the Kohawks finished runner-up in the regular season.
Coe is located in Cedar Rapids, Iowa, and has an undergraduate enrollment of about 1,300. The Kohawks field of varsity roster of 95 players, 75 of whom are from Iowa.
Coe is 10-1 on the season and carries a seven-game winning streak into Saturday's game. The team's lone loss on the season came to Central in October.
St. Thomas and Coe have faced off twice in the last six years, splitting a two-game series over the 2004 and 2005 season.
Unlike against Monmouth, St. Thomas has two common opponents with the Kohawks this season. Both teams played and beat Gustavus in October. The Tommies beat the Gusties 45-12 on Oct. 3, while Coe topped Gustavus 27-24 on Oct. 12. St. John's defeated St. Thomas earlier this season in overtime, but Coe was able to knock off the No. 4-ranked Johnnies 34-27 last Saturday to advance to this week's game against the Tommies.
Coe offense
Led by sophomore quarterback Brad Boyle, the Kohawks are averaging 31 points per game. Coe averages 136 yards per game on the ground and 254 through the air. Boyle takes a heavy portion of the offensive workload, as he has thrown for 21 touchdowns and run for 16 more. He has completed an average of 61 percent of his throws while racking up 2,800 yards this season. Boyle's most impressive statistic is that he's only thrown one interception through 11 games.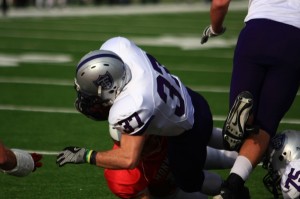 The running game is anchored by senior Sam Hammes, whose 68 yards per game lead the team. However, Hammes did not play in the game against St. John's. He was replaced by Brendan Leiran, who ran for 51 yards against the Johnnies.
Upperclassmen drive Coe's receiving core, led by junior Michael Rozum. Rozum has 641 yards receiving this season with a 17 yards-per-catch average and four touchdowns. He is complemented by junior Tyler Takes, who has 527 receiving yards and eight touchdowns this season.
Coe defense
Senior linebacker Tate Harrison, whose 128 tackles tops the team, leads the Coe defense. Freshman standout Frank Weymiller heads a defensive line that has a habit of getting to the quarterback. Coe has 42 sacks on the season and 18 of them have come from Weymiller. Junior defensive back Seth Johnson leads the secondary with three interceptions this season, contributing to the team's total of 15.
Keys to the Game
Tommie defense vs. Brad Boyle: Of Coe's 51 touchdowns this season, Boyle is directly responsible for 37. Shutting down Boyle will be the key to St. Thomas shutting down Coe. He has been intercepted only once this season and is sacked less than twice a game, so pressure and turning the ball over are not scenarios he is used to playing with. Look for the Tommies to force the issue on Boyle.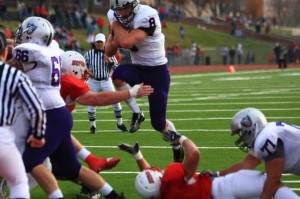 Frank Weymiller and Kohawk defensive line vs. Josh Ostrue and Tommie offensive line: Controlling the line of scrimmage was key in St. Thomas' win over Monmouth, so the offensive line will set out to dominate the trenches again this week. Squaring off against St. Thomas will be a defensive line led by Weymiller, who averages almost two sacks per game. Junior Nate Clear has eight sacks on the year and sophomore Tyler Hemry has five-and-a-half, so zeroing in on Weymiller will not be enough. The entire Kohawks' defensive line brings pressure, so decent protection and plays designed to counter defensive penetration will be key for St. Thomas.
Turnovers: Both teams take care of the ball well. St. Thomas enters the game plus-nine in the turnover margin category, but Coe comes in sporting an astounding number of plus-23. Between Boyle being intercepted only once this season and the defense forcing 28 turnovers, the Kohawks treat the football like a precious commodity. St. Thomas will want to take care of the football and do everything it can to force Coe into mistakes it is not used to making.
Jordan Osterman can be reached at jrosterman@stthomas.edu