On Monday night, a group of about 40 parents, coaches and fans gathered at Plum's Neighborhood Grill & Bar on Snelling Avenue to look at film of the St. Thomas football team's 31-20 loss to Linfield.
Among the clinks of beer glasses and plates, coach Glenn Caruso stood in the center of the room, breaking down replays of Saturday's loss in the NCAA quarterfinals. He gave credit to Linfield for its winning performance but also repeatedly pointed out instances of how well his team played. The audience listened attentively, requesting further elaboration from Caruso when needed.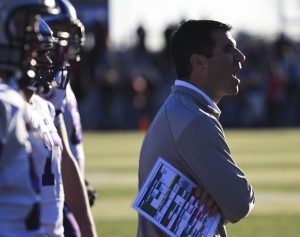 But the real reason the group had gathered wasn't to gain intimate knowledge of the ins and outs of St. Thomas offensive schemes – it was to bring closure to the most successful season in Tommie football history.
After a loss in the quarterfinals, this year's Tommies ended 11-2. Those 11 victories were the most wins in a single season in St. Thomas football history.
"It's pretty significant when you consider over a hundred teams have played here, and no one has had the success that these 110 guys have had," Caruso said.
That success has given hope to many, including those in the room with Caruso on Monday night, of a resurgence for St. Thomas' football program. With new athletic facilities scheduled to open next summer and 19 of 22 starters returning, the immediate future looks bright for St. Thomas football.
"This season is a huge springboard for us," Caruso said. "We want to sustain [competing on a national scene] every year."
This season has helped ensure future success by spreading the name of St. Thomas football on the national scene. According to the coaching staff, 56 meeting requests have been extended to St. Thomas since the playoffs from players interested in playing for the Tommies. Throughout the season, that number was one or two per week on average. Across the nation, players' eyes are turning toward St. Thomas and seeing a winning program.
For one night more night, however, the attention was focused on the 2009 team's incredible season and the coaching staff that led the way.
Vice President of Student Affairs Jane Canney led the audience in voicing their appreciation with a yell of "Three cheers for the coach!"
Caruso quickly directed the applause to the rest of the coaching staff, where it was raised to an even higher level.
Parents and fans hung around well after the presentation had concluded, offering their thanks to the coaches on hand for the memories of this season. Come this May, many of those same people will be returning to Plum's where St. Thomas will unveil its incoming class for next fall, marking the start of a new season.
Until then, what they saw on the field from the 2009 Tommies will have to tide them over.
Jordan Osterman can be reached at jrosterman@stthomas.edu