Video by Michael Ewen
Just two years removed from a 2-8 season, coach Glenn Caruso took the team to a 7-3 mark last year in his first season and without an overtime loss at St. John's, the Tommies would have been perfect in 2009.
Now, the 9-1 team is headed to the NCAA playoffs for the first time since 1990 and have a first round date with Monmouth, (Ill). Here's how the team got there.
Game 1 – St. Thomas 54, Macalester 14
The Tommies dominated Macalester in the season opener as junior running back Ben Wartman rushed for 117 yards and two touchdowns. Sophomore Fritz Waldvogel returned a 74-yard and 68-yard punt return for touchdowns. The Tommie defense held Macalester to 78 yards passing and junior Alex Hass reeled in an interception. Record: 1-0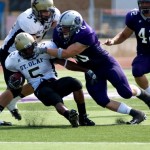 Game 2 – St. Thomas 27, St.Olaf 16
The Tommies defeated St.Olaf for the first time since 2003 and gave the Ole's its first loss of 2009. Wartman rushed for 176 yards and two touchdowns, while catching another touchdown from sophomore Greg Morse. Morse finished with two passing touchdowns as he also hooked up with senior tight end Joe Herrera. Waldvogel had 11 catches for 127 yards. The Tommie defense was led by sophomore Willy Baregi, who sacked St. Olaf quareterback John Haberman twice and had three tackles for losses. Record: 2-0
Game 3 – St. Thomas 63, Hamline 10
St. Thomas stomped Hamline, letting Wartman lead the way yet again. Wartman ran for 155 yards and four touchdowns. He was relieved by junior Colin Tobin, who ran for 173 yards and two touchdowns. Waldvogel had eight catches for 139 yards and two touchdowns. The Pipers were held to 40 yards rushing and junior Bryan Villar had an interception. Record: 3-0
Game 4 – St. Thomas 45, Gustavus 12
Wartman led the Tommies again helping St. Thomas beat Gustavus. The junior ran for 107 yards and three touchdowns in addition to catching another. The Gusties were held to 92 yards rushing while sophomore Kirk Baglien and senior Kris Kopp both had interceptions for the Tommies. Junior Cyrus Allen and sophomore Mike Valesano each recorded half a sack.
Record: 4-0
Game 5 – St. Thomas 31 – Concordia-Moorhead 17
The Tommie running back tandem starred again as Wartman rushed for 113 yards and a touchdown and Tobin adding two more scores. Waldvogel caught 12 passes for 141 yards. The Tommie defense had a big day, getting interceptions from junior Matt Griswold, junior Brady Ervin and freshman Kyle Mulrooney. Mulrooney took his pick to the house from 53 yards out. Allen had three sacks for the Tommies, while senior Joe Pyka, Kane and freshman Iyo Idowu each had one. Record: 5-0
Game 6 – St John's 20, St. Thomas 17
The Tommies fell short in overtime against arch-rival St. John's. After falling behind 14-0, Morse threw touchdown passes to seniors Tony Margarit and Jake Friederichs to tie the game 14-14 at the end of regulation. Brady Beeson's field goal put the Tommies up 17-14 in overtime, but Johnnie senior Kellen Blaser answered back. The running back won the game with an 8-yard touchdown run. Despite holding the Johnnies to 73 yards passing and getting a sack from Sturm, the Johnnies' tough defense and running game proved to be the difference. Record: 5-1
Game 7 – St. Thomas 48, Carleton 28
The purple rushing attack struck again as Wartman ran for 124 yards and two touchdowns. Tobin and quarterback Dakota Tracy each added two rushing touchdowns, too. Special teams gave the Tommies an edge as Waldvogel returned the opening kickoff 74 yards for a touchdown. Mulrooney intercepted quarterback Vaughn Schmid while sophomore Kyle Reynertson and Kane each added a sack. Record: 6-1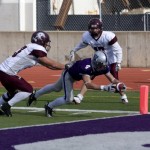 Game 8 – St. Thomas 42, Augsburg 3
The Tommies got scoring from various sources in the romp of Augsburg. Tracy threw for three touchdown passes, one each to Wartman, Waldvogel and Friederichs. Wartman ran for 108 yards and a touchdown while Tobin tallied 102 rushing yards. Waldvogel once again returned the opening kickoff for a touchdown. The Tommies ended the offensive onslaught with a 22-yard touchdown pass from Margarit to Morse. The Tommies intercepted Auggie quarterback Marcus Brumm five times, with picks coming from Becker, Ervin, Valesano, Delgado, and Baglien. Record: 7-1
Game 9 – St. Thomas 19, Bethel 10
The Tommies won a physical battle at in Arden Hills against Bethel. Although Wartman was held out of the end zone, he still managed to run for 133 yards. Tracy threw three touchdown passes, one each to Friederichs, Margarit and sophomore Nick Gleisner. Kopp excelled at cornerback, nabbing one interception and two forced fumbles. Record: 8-1
Game 10 – St. Thomas 63, Northwestern 14
St. Thomas dominated the Northwestern Eagles on the way to a 63-14 win to close out the regular season. Waldvogel had a huge day on special teams with a punt return and a kickoff return for a touchdown. Wartman contributed 138 yards and two touchdowns on the ground and freshman Joe Novitski tacked on three rushing touchdowns of his own. Record: 9-1
Danny Grimmer can be reached at degrimmer@stthomas.edu