Junior outfielder Tim Kuzniar began his summer playing baseball for the St. Thomas team in the St. Paul Amateur City League, but in late July, he got an exciting call that would boost him into a new level of play.
Kuzniar was asked to join the Lakeshore Chinooks, an amateur team out of Grafton, Wis. The Chinooks are part of the Northwoods League, which is comprised of 16 teams that span the upper Midwest and Canada. The league is comprised of mainly Division I and II athletes, but five St. Thomas players participated in the league this summer.
Kuzniar and his mates got the opportunity to play with and against top tier athletes from across the country.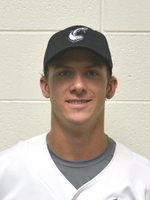 "It's an honor to get a call to go and play in this type of summer league full of Division I athletes," Kuzniar said.
Kuzniar said he was picked up late in the season because a lot of the Division I players decided to go home early.
"A lot of the guys start school earlier than we do, so they wanted to give themselves a little bit of a break before it all started up again," Kuzniar said.
This break for some players landed Kuzniar in the perfect position to hone in on his skills and trade insight with some of the best players in college baseball.
"Its been quite the playing and learning experience playing with these guys," Kuzniar said. "I got to learn how some of the big time schools prepare for games."
St. Thomas coach Chris Olean said the Northwoods league is the perfect place for Kuzniar to get a feel for that level of play.
"For Tim only just finishing up his sophomore season, he was able to get a feel for what the league was like, meet some great guys, and make an impression for next season," Olean said.
Kuzniar said originally it was difficult to adjust to the higher level of play, but after settling into the team, he found himself able to compete.
"The pitching is consistently in the upper 80's to lower 90's, and that's something I don't see on a regular day like these guys do all season," Kuzniar said. "After a while, I was able to adjust and feel like I belonged playing with those guys."
In terms of training for the upcoming season, Kuzniar says that what he learned this summer will drastically affect how he prepares himself.
"Playing with Division I guys made me elevate my level of play every day I was in the ballpark, which will continue to help me and my teammates at St. Thomas this fall," Kuzniar said.
Teammate Dylan Thomas, who also played in the Northwoods League, agreed that their time in the league will be helpful next season.
"For both of us, we can bring back more experience to the team, also with J.D. Dorgan, Ryan Gerber, and Tommy Danczyk, to help us win the national championship this upcoming year," Thomas said.
Alex Goering can be reached at goer8777@stthomas.edu.