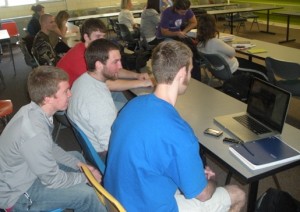 If the increasingly warm weather isn't enough to distract students from their studies in the middle of March, the madness of the NCAA's Division I basketball tournaments might be.
The opening round began Thursday morning, with 16 games played throughout the day, leaving the other 16 for Friday.
Many students and faculty filled out their tournament brackets in hopes of winning pools amongst friends, coworkers or roommates.
Even in pools that don't involve money, the most casual basketball fans can get distracted in class as they anxiously watch score updates on their laptops or smart phones, hoping their picks win the game.
For junior CJ Matson, March Madness is bigger than any other event.
"It is the best time of the year," Matson said. "Selection Sunday is a holiday for me."
Matson created a money pool amongst a group of friends, which keeps him extra busy managing his time around the big games.
"I usually do my homework during work, when I do not have any work to do," Matson said. "I try to find time, but it's really difficult. "
Faculty, staff get involved
Challenger, Gray & Christmas, a Chicago based employment firm, estimates that March Madness costs the country $1.8 billion dollars in productivity.
If you walk into philosophy professor Stephen Laumakis' office during the opening round games, you will likely see a game streaming in the background as he works or talks with students.
Laumakis teaches a lot of "super-section" classes, which often take place in the JRC lecture room, offering students an easy way to have games streaming on their computers while he lectures.
"I used to bring in a black and white TV before we got the high tech computer stuff," Laumakis said. "Technically during class I say you ought to be paying attention, but you never know when I am going to run up the stairs. I will just say that I don't think that is what we should be paying attention. The students will all laugh, and I will [ask] well what's the score?"
A large group of St. Thomas faculty, including Laumakis has taken part in an office pool, which is on its 16th year running. For Laumakis this is one of the two pools he takes part in. He also competes in a pool with his family.
"Now it is eating up my time insofar as I got my daughters involved in it and try to explain to them how to make the picks," Laumakis said.
Balancing school, work and basketball
Senior Kelly Howes has a busy schedule with both class and work so for her getting to actually watch the games is tough.
"Usually if I am not class I am at work," Howes said. "I can kind of check scores when I am at work, I also have my phone, and ESPN texts me updates of the scores. In class I don't really know what the scores are, but my Blackberry is my way of updating."
Howes is even more invested in March Madness because she fills out both the men's and women's brackets, doubling the number of games she needs to pay attention to. She competes with a group of her dad's friends and her dad, who sends updates every week, bantering people who do poorly in the pool.
According to an MSN survey, about 58 million Americans participate in a tournament office pool.
"This is my favorite month because of all the conference championships, the picking, and then it starts with the tournament," Laumakis said. "If you love basketball, then you have to love this month."
Brian Matthews can be reached at bsmatthews@stthomas.edu.