The Tommie men's basketball team (26-3) will travel Thursday to Rock Island, Ill., to take on defending NCAA Division III champion Wisconsin-Stevens Point (26-3) Friday night in the NCAA Division III Sweet 16.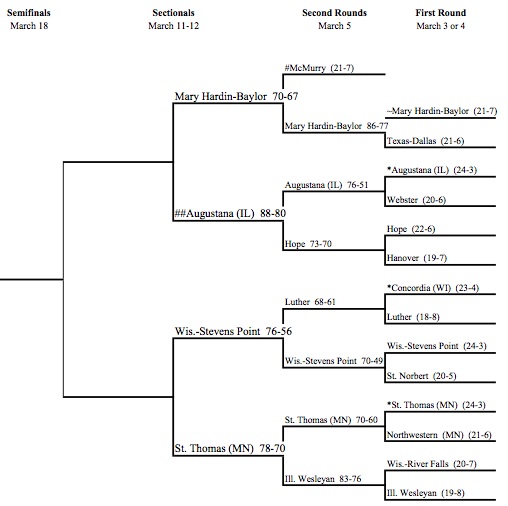 "We look forward to the challenges of the week," coach Steve Fritz said. "If you're going to win a national championship, you're going to have to beat Stevens Point."
The Pointers, who are coming off a 20-point rout of Luther College, are vying for their fourth national championship in the past eight years.
Stevens Point leads the nation in shooting, making 52.6 percent of its shots from the field this season. St. Thomas finished seventh, shooting 49.6 percent.
"They can go inside and outside, and they can put up 3's in a hurry," senior guard Teddy Archer said. "We look at it as we have to buckle down."
A familiar opponent
The Tommies defeated Stevens Point 61-54 at home during the regular season. The Pointers rebounded, going 21-1 since the loss, but Archer said beating Stevens Point already gives the Tommies "an enormous amount of confidence."
"We've seen them," Archer said. "We've actually played them three years in a row now. It's going to be a battle one way or the other, but we've done it before."
Fritz said the biggest challenge in playing Stevens Point is trying to match its strength.
Stevens Point's junior Jordan Brezinski, a 6-8 center, has been trouble inside for the Tommies. He went six-for-six with 15 points and grabbed three offensive rebounds in their first meeting.
The Tommies expect their own 6-8 junior, Tommy Hannon, to limit Brezinski's touches. Brezinski is shooting more than 69 percent from the field this season.
"He's pretty strong, and he goes to the glass hard," Hannon said. "I just have to box him out and make him take tough shots."
While Hannon and Brezinski battle inside, both teams' point guards will try to provide offense. Senior Tyler Nicolai's hot hand has led the Tommie offense through the playoffs, and sophomore Jerrel Harris leads the Pointers in scoring.
"[It] will certainly be one of the keys of the game," Fritz said. "They are both All-American type players and are both playing very well right now."
Seniors nearing the end
The St. Thomas senior class has posted a 102-13 record during the past four years. Archer, Nicolai, Alex Healy, Anders Halvorsen and Brady Ervin have led the Tommies to at least 20 wins each season.
Hannon will be the only regular starter returning next year.
"It's kind of bittersweet," Hannon said. "We're excited that it's tourney time, but it's kind of sad that it's the last time we're going to play with Ty (Nicolai) and Ders (Halvorsen) and Heals (Healy) and all those guys.
"We're going to try to make this run as far as we can. For [the seniors] it will be a lot better if they can say we went out on top."
Alex Keil can be reached at amkeil@stthomas.edu.