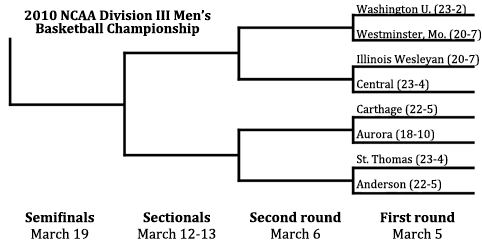 Without a home arena, St. Thomas was unable to secure a bid to host the first rounds of the NCAA men's basketball tournament. So the team is starting its run at a national championship about 360 miles away in Kenosha, Wis., at host-school Carthage College.
"We've been on the road all year without a home court," junior forward Anders Halvorsen said. "That should help us [in the tournament], I would think."
Entering the tournament as the No. 3-ranked team in the country, St. Thomas (23-3) found out Monday morning it will face Anderson University (Ind.) in the first round. The Ravens (22-5) are making Anderson's first appearance in the NCAA tournament after receiving an at-large bid. Anderson won the Heartland Collegiate Athletic Conference regular-season title outright for the first time since 1961, but fell to Defiance College in the conference championship.
Anderson was ranked No. 23 in the latest Division III poll, and sports a roster with five players averaging double-digits in scoring. They are led in that department by sophomore forward Brock Morrison at just under 15 points per game.
Halvorsen said Anderson's lack of depth may play to the Tommies' strengths.
"They've got five players that average double figures, so hopefully that can be to our benefit because we play twelve players," Halvorsen said. "We're just going to press and play our defense, and hopefully it wears them down."
While the rest of St. Thomas' region is not as stacked as last year's vaunted division of the tournament, the top-right section of this year's bracket does have eight teams ranked in the top 25 of Division III polls. Among those is two-time defending national champion Washington University in St. Louis, which is ranked No. 1 in the country entering this year's tournament. The earliest St. Thomas and Washington could meet would be in the sectionals round of 16.
The other matchup at Carthage Friday will be between the host Red Men (22-5) and Aurora University (Ill.). Both teams won their conference tournaments for bids into the tournament, and Carthage enters ranked No. 16 in the latest D-III polls. Aurora (18-10) is making its fourth straight NCAA tournament appearance, including last season when it was defeated 96-73 by St. Thomas in the opening round.
MIAC tournament champion Carleton College is also in St. Thomas' section of the bracket. The Knights received the MIAC's automatic bid after defeating Gustavus Adolphus College in overtime of the conference championship. Carleton plays No. 9-ranked UW-Stevens Point in the first round at Stevens Point.
St. Thomas has made seven of the last 11 NCAA tournaments, including the last four. Going into Friday's game, the Tommies have the best record in D-III over the last five years, going 123-19 in that time.
"We definitely have to get ready for the tournament," Halvorsen said. "One game and you're done, so we have to take it one game at a time."
Jordan Osterman can be reached at jrosterman@stthomas.edu.