Although the Tommie men's golf team is returning six of its top seven players this season, the team has many new additions to the program including a new head coach and invite-only tryouts.
Scott Proshek, formerly the Tommies' assistant coach since 2006, was named head coach this summer after Dave Lepp resigned due to additional duties as St. Thomas' athletic facilities manager.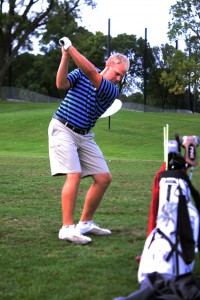 "Dave Lepp, the former coach, left me with a great group of talented players," Proshek said.  "We basically have the same team but are more focused and returning players who are more experienced. Others who made the team are either sophomores or juniors with some experience.
The team has only one freshman, Scott Hird, and he's impressed the entire team, Proshek said.
With a strong returning team, Proshek chose a new style of tryouts by inviting players to participate, instead of keeping tryouts open. This method was used not only to find the best players, but also to give players an idea of the kinds of courses they would play on throughout the season.
Returning seniors Sean Barrett and Grant Shafranski are team captains this year. Barrett, an All-MIAC honoree, hopes the team can stay consistent this season.
"One thing we need to work on is staying more focused and committed throughout the whole season, especially when school starts to become busier," Barrett said. "Also, since we have a new coach there will definitely be a new attitude and expectations for the team.
The Tommies began the season last weekend, taking second place out of 22 teams in the Edgewood Invitational in Janesville, Wis. While each individual competition is important, the team's main focus is on the MIAC conference tournament.
"All fall matches are big, but the biggest is our conference tourney," Proshek said. "The MIAC champion receives an automatic bid to the NCAA [tournament], and this is our goal. If not, we hope to be seeded by Golfstat's rankings high enough to be considered for an at-large bid."
The Tommies will participate in five fall tournaments, ending with the MIAC Championship on Oct. 2-4 at Bunker Hills Golf Course in Coon Rapids. The team will also participate in four more tournaments in the spring.
Meg Tvrdik can be reached at tvrd0386@stthomas.edu.