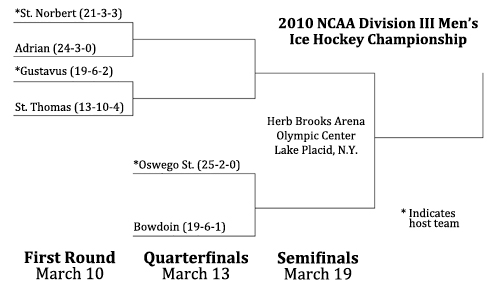 Fresh off winning an overtime thriller at the MIAC championship last week, the Tommie men's hockey team (13-10-4) will make a another trip to St. Peter and face Gustavus (19-6-2) in the first round of the NCAA tournament on Wednesday.
The MIAC foes will face off for the fourth time this season. Gustavus holds the season edge 2-1 and has outscored the Tommies 12-3.
"We're the underdog again, and we know that, but we are dangerous right now and feel that we can beat any team that we play including a team we just beat last week," junior Andrew Kappers said.
Gustavus is led by senior captain David Martinson, who led the MIAC with 29 goals. Gustavus' goaltender, junior Josh Swartout, has anchored the team all year with a save percentage over 90 percent and a conference-leading goals against average of 2.13.
St. Thomas does not have the standout individual numbers that Gustavus does, as the Tommies look for goals from a variety of players. Kappers leads the team with 28 regular season points (9 goals and 19 assists) and is coming off the conference playoffs, where he posted two goals and an assist in two games.
"We know [Gustavus] can score, so we just have to play solid in every position starting at the goaltender spot all the way out to our forwards," Kappers said.
Senior goaltender Joe Schraeder has single-handedly kept the team's hopes alive in the 2010 post-season, holding strong in two overtime games and saving 97 percent of the shots he has faced. His performance in the MIAC playoffs was a drastic improvement from the regular season, where he ranked 10th in the MIAC with an 88 percent save percentage.
"Any team we face in the NCAA's is going to be a good team that deserves to be there," Schraeder said. "It should be a real exciting, fun game to be a part of, and we look forward to the challenge of playing [Gustavus] down there again."
Gustavus looks to repeat and build off its 2009 NCAA playoff run, when it took second place, losing 4-1 in the championship to Neumann University (Pa.).
The Tommies automatic bid into the NCAA tournament is a result of getting hot at the right time. Even though the Tommies have more losses (10) than any other team in the tournament, St. Thomas has won four games in a row and seven of its last eight.
"We have been playing our best hockey of the year recently and would like to continue that," Schraeder said.
Wednesday's game marks St. Thomas' 14th NCAA playoff appearance and its 11th under coach Terry Skrypek.
Brian Matthews can be reached at bsmatthews@stthomas.edu.