Senior captain Robbie Vannelli and coach Jeff Boeser hope the St. Thomas men's hockey team's offseason preparation will lead to more success when it opens its season against Augsburg Friday at Fogarty Ice Arena in Blaine, Minn.
After winning 11 conference games en route to a MIAC championship and an at-large NCAA berth last season, Boeser said the way the 2011-2012 season ended will inspire the players to work hard at every practice.
"Last year we won some close games, and we could have easily ended up in fourth place, but the kids found a way to persevere and win," Boeser said.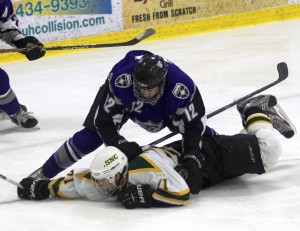 Junior forward Pat Mahoney said after catching a glimpse of big success last season, the team looks to go far in the postseason, but not before focusing on what's in front of them.
"Our goal every year is to win the MIAC, and we want to be the first St. Thomas team to win a national championship, but we try not to look that far ahead," Mahoney said. "We're just focusing on the next game."
Last year, the Tommies headed into the NCAA Division III playoffs with an at-large bid after falling 4-3 to St. Olaf in the MIAC semifinal playoff game. The Tommies lost 3-1 in the first round of the national tournament to the eventual national champion St. Norbert (Wis.).
Vannelli, who recorded six goals, nine assists and 15 points last season, said he is eager for the start the season and to have another chance at a national title.
"We had a glimpse of the NCAA playoffs last season and are looking to compete for the national championship this year," Vannelli said. "We have a lot of guys returning from last year's team, and the coaches did a great job with this year's recruiting class."
One returning player, senior forward Riley Horgan, led the team with 32 points (five goals, 27 assists). Other senior forwards Brandon Bahnemann (12 goals, 2011-12) and Travis Baker (10 goals, 2011-12) will also add to the Tommies' offensive attack.
The team can also look to sophomore forwards Chris Cass and Alex Altenbernd.
St. Thomas allowed 60 goals last year. Senior goaltender Tyrone Simcoe and sophomore goaltender Drew Fielding split starts last season.
Boeser said his team's progress and work ethic last year and in tryouts this year make for high expectations for the season.
"Top to bottom in the MIAC conference, there are no guarantees," Boeser said. "We had some good seniors graduate, so the younger players will have to step up and contribute sooner than later."
The Tommies' home opener is Saturday against the U.S. Junior 18's team at the St. Thomas Ice Arena in Mendota Heights, Minn.
Andrew Eisele can be reached at eise6299@stthomas.edu.