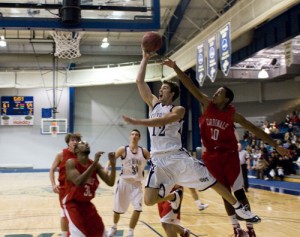 While many St. Thomas students were jet-setting around the world, barely navigating farther than the confines of their couch or cramming in a quick class during January, the men's basketball team took advantage of its break by piling up some victories.
The Tommies went an impressive 10-1 during the stretch, losing a hard-fought game to Gustavus on Jan. 13. The team reeled off wins against Bethel, Carleton, St. Mary's, St. John's, Hamline, Concordia, St. Olaf and Augsburg.
As hot as the Tommies were over the break, junior guard Tyler Nicolai undoubtedly stoked the fire. Nicolai averaged 14.4 points per game at point guard during the 11-game run, but wasn't the only weapon opposing teams had to worry about. Senior guard Joe Scott, 10.9 points per game over the January stretch, and junior guard Alex Healy, 11.1 points per game, both were offensive threats.
"We played well over J-Term," Nicolai said. "We lost a tough one to Gustavus, but other than that we have been playing well."
St. Thomas also achieved a few milestones during J-Term, including setting the record for consecutive wins against MIAC opponents (32), its seventh straight win over St. John's University, and scratching back to a top-five national ranking. All are steps to help the Tommies achieve some lofty goals.
"I think over J-Term the team had made big strides," Scott said. "Our goal as a team has been the same since the beginning of the season … win the national championship."
Ben Katzner can be reached at bekatzner@stthomas.edu.