One more win and the Tommies should be in.
If the St. Thomas football team beats Northwestern College on Saturday, it will all but sew up its first bid to the NCAA Division III playoffs in almost 19 years.
Having completed their conference schedule at 7-1 and locked up second place in the MIAC, the Tommies close out the regular season at 1 p.m. Saturday  in O'Shaughnessy Stadium.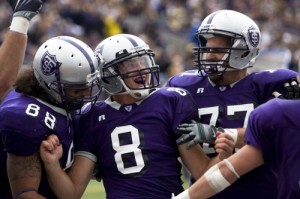 With a win St. Thomas would be in position to receive an at-large bid into the 32-team NCAA playoffs, a tournament the Tommie football team has not been a part of since 1990.
St. Thomas will find out at 2 p.m. Sunday if the team made the playoffs.
"It would be an enormous step," coach Glenn Caruso said. "It's tangible evidence this program is going in the right direction."
For a chance to be selected for the tournament, St. Thomas must finish its playoff portfolio with a win over Northwestern. The Eagles play in the Upper Midwest Athletic Conference and enter the game with a 5-4 record.
Last year, on Nov. 15 St. Thomas manhandled Northwestern in a 41-0 victory and held the Eagles to negative 18 rushing yards to close out the regular season. Now, 364 days later, the Tommies are looking to give the Eagles similar treatment with a trip to the postseason at stake.
"I believe our players have prepared themselves properly so when we get to the game [Saturday] we'll be able to take care of business," Caruso said.
Michigan's Appalachian State debacle provides focus
Taking care of business has been a message St. Thomas is making sure is paid close attention to this week when a loss would dash any hopes of the playoffs. Caruso has repeatedly reminded his players about Division II Appalachian State's historic upset over Division I Michigan in 2007. Caruso said the disparity between those teams was far greater than the disparity between Northwestern and St. Thomas. While looking ahead to a possible playoff bid, the team knows it can't slip up and allow Northwestern to overachieve.
"We understand we can't get there [the playoffs] unless we take care of this week," Caruso said.
Possible playoff opponents
If St. Thomas beats Northwestern on Saturday, the Tommies will be in position for a playoff matchup against a variety of possible opponents. Travel distance is a huge factor in Division III playoff seeding, so there is a chance that a first round game could be a rematch against conference rival St. John's. Other possible opponents include Wisconsin-Whitewater, Monmouth (Ill.) and Central (Iowa).
Regardless St. Thomas' opponent, the playoff game would be historical for the program in many respects.
A lifetime between playoff berths
According to Tommiesports.com, freshman running back Haakon Hansen was born on Nov. 25, 1990. That is one day after the last time a St. Thomas football team played an NCAA playoff game, which occurred on Nov. 24, 1990. One full lifetime later, a win on Saturday would also mark the first time since 1983 a Tommie football team had nine wins in a season.
Junior defensive back Brady Ervin realizes how important a playoff berth for St. Thomas would be.
"It would mean a lot…not just to our team this year but to all the other St. Thomas teams that have come before us since St. Thomas last made the playoffs," Ervin said. "Making the playoffs isn't something that just our current players get to enjoy but rather the whole St. Thomas community."
That community will have a chance to witness history on Saturday, as St. Thomas could finish a bid for its first playoff berth in just under two decades. With a win, the Tommies will have just under 24 hours to sit back and wait for the announcement of the NCAA tournament field at 2 p.m. Sunday.
Check TommieMedia.com Sunday for the results and follow us on Twitter and Facebook for instant playoff information.
Jordan Osterman can be reached at jrosterman@stthomas.edu