This is the opinion of Sports Editor Miles Trump.
When the Tommies' All-American running back Ben Wartman went down with an injury early in the first quarter of Saturday's game against Wisconsin-River Falls, all the air was sucked out of Palmer Field. You could've heard a pin drop.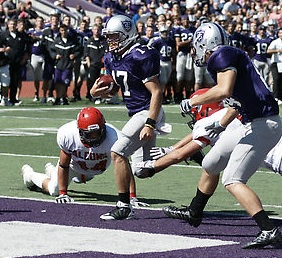 Luckily, the Tommies also have All-MIAC running back Colin Tobin, who filled in nicely for Wartman by rushing for 77 yards on 14 carries — averaging more than five yards per carry.
When the Tommies failed to score any points in the first quarter-and-a-half with starting quarterback Dakota Tracy taking the snaps, fans were wondering how a team that averaged nearly 40 points per game last season couldn't get the ball in the end zone before halftime.
It's a good thing the Tommies also have backup quarterback Greg Morse, who led the team in passing last year with 117.6 yards per game and 11 touchdowns. Morse came in and drove the Tommie offense 73 yards in seven plays, throwing an 18-yard touchdown that helped rejuvenate the Tommie offense.
Although this is the most hyped season the program has had in recent history, the Tommies still struggle just like other football teams. This team isn't invincible. But the difference is that this year's team has more depth than almost every single opponent the program will face in the regular season.
"A lot of teams can populate a roster with 125 guys, but a lot of teams can't populate with 75 to 80 guys that can play winning football, and that's what we have," coach Glenn Caruso said.
For Caruso, that attitude starts at the beginning of his recruiting process.
"When I recruit, I need to be able to look the guy in the eye and say, 'If you're good enough to play for us, we'll find a way to get you on the field, and that's why you see a lot of these tandems working," he said.
Tobin said it's one of the strengths of this year's team.
"That's how we're built," he said. "We're built to keep moving forward, so when one person goes down the next person steps in."
While many tend to see offensive depth in the quarterback, running back and receiver positions, the Tommies' offensive line may be deeper than any other team's in the country. Every single player who contributed to last year's offensive line — which allowed only three sacks all season — has returned to this year's team, including All-American tandem Josh Ostrue and Chad Vandergriff.
The Tommie defense has a similar situation.
The defense gave up roughly 15 points per game last season, when the Tommies went 11-2 and earned an NCAA quarterfinals berth. So far into this season the Tommie defense has been dominant, giving up just 10 total points in two games.
Last week, senior defensive back Brady Ervin was the MIAC Player of the Week after he had two interceptions, returning one for a touchdown. This week, junior linebacker Tony Danna led the team in tackles with 9.5. Junior linebacker Willy Baregi is off to a great start with three sacks, a blocked kick and a fumble recovery in the first two games. Senior linebacker Tommy Becker is leading the team in tackles with 17.5 in two games. The list goes on and on.
And if one person can't play for one reason or another, the Tommies will have someone else ready to step in. Caruso used himself as an extreme example.
"If I walk out of here today, and I get hit by a garbage truck and I die, this program's not going to shut down," Caruso said. "They're going to find a way to come out to [watch] film tomorrow, and practice on Tuesday and play next weekend.
"What I need to do as a head coach is create a mental toughness, that who ever is the next guy in, [he's] going to get it done," he said. "Fortunately, we're seeing some of that."
The Tommies take on St. Olaf at 1 p.m. Saturday in Northfield, Minn.
Miles Trump can be reached at mttaylorjohn@stthomas.edu.