Six St. Thomas athletes have so far received the first Elite 22 award—a new MIAC honor modeled after the NCAA Elite 89 award, which recognizes the player in each of the MIAC's 22 sports who has the highest GPA and whose team played in the conference championship.
St. Thomas sophomore Joe Morris earned men's hockey Elite 22 award, and he said getting the award was an exciting surprise.
"When they were calling my name I didn't know what was going on. I didn't even know this award existed," Morris said. "It's a great honor to be awarded for my performance in academics."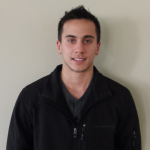 St. Thomas men's hockey coach Jeff Boeser said the backup goalie is a "big part" of their team.
"We happen to have some of the best goalies in the nation so he doesn't get to see a lot of time in the game," Boeser said. "But he shows up every day, and he works hard. He's just a great kid, and we're lucky to have him."
Boeser said the creation of this award represents what it means to be a D-III athlete.
"It's about the student first, and they play their sport for the love of the game," Boeser said. "They're not getting athletic scholarships."
So far, 16 participants in the fall and winter sports of 2013-14 have been recognized, and six more spring sport recipients will be named after the conclusion of their regular seasons, which will bring the total to 22.
In addition to Morris, St. Thomas Elite 22 award winners include Alex Kapraun for men's golf, Erin Dingmann for women's golf, Keegan Bragg for football, Max Hamilton for men's swimming and diving and Courtney Pahl for women's basketball.
Molly Sigler can be reached at sigl1215@stthomas.edu.