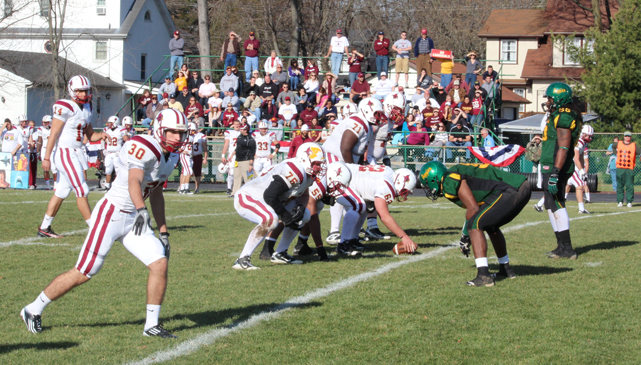 NCAA DIVISION III
FOOTBALL PLAYOFFS
Second Round, Nov. 26
No. 3 St. Thomas 38, Monmouth 10
St. John Fisher 27, No. 11 Delaware Valley 14
No. 2 Mount Union 30, No. 25 Centre 10
No. 10 Salisbury 49, No. 12 Kean 47 3OT
No. 7 Wesley 49, No. 5 Linfield 34
No. 9 Wabash 29, No. 6 North Central (Ill.) 28
No. 1 Wis.-Whitewater 41, No. 17 Franklin 14
No. 4 Mary Hardin-Baylor No. 19 McMurry
DOYLESTOWN, Pa. — Backup quarterback Ahmed Hassenien scored on a 32-yard run with 10:53 left in the third quarter, and Chad Monheim kicked field goals of 39 and 36 yards, giving St. John Fisher the upset victory at No. 11 Delaware Valley.
The victory put St. John Fisher into the quarterfinal round next Saturday against No. 3 St. Thomas.
Two key interceptions helped the Cardinals (10-2) hold off Delaware Valley (11-1). Brenden Moore picked off a pass 17 seconds before halftime to let St. John maintain a 17-14 lead at the break, then Wade Kline ended Delaware Valley's first drive of the second half and set up Hassenien's touchdown run.
St. John Fisher gained 289 yards, 196 rushing and 93 passing, led by a personal-best 145 yards rushing from sophomore Cody Miller.
Mount Union 30, Centre 10
ALLIANCE, Ohio — Matt Piloto completed 13 of 27 passes for 189 yards and two touchdowns to lead No. 2 Mount Union (12-0) to the home victory over Centre (9-2) and a spot in the quarterfinals.
READ MORE, SEE MORE
Piloto hit Jasper Collis with an 11-yard scoring pass with 5:04 to play in the first quarter to give Mount Union the lead for good. Mount Union added Blair Skilliter's 2-yard touchdown run and a safety to lead 16-0 with 6:54 to play before halftime.
Piloto passed 22 yards to Brandon Brown for a touchdown midway through the third quarter, and Jake Simon added a 7-yard TD run with 2:53 remaining in the game.
Mount Union faces No. 9 Wabash next Saturday.
Wabash 29, North Central 28
CRAWFORDSVILLE, Ind. — Tyler Burke passed for three touchdowns, including a 1-yard strike to Jeff Bell with 52 seconds left in the game and a two-point conversion pass to Brady Young, to rally No. 9 Wabash (12-0) to victory over No. 6 North Central (10-2).
Wabash trailed 28-7 going into the fourth quarter, then Burke went to work. He hit Wes Chamblee with a 33-yard scoring strike with 10:13 to play, Jonathan Horn from 23 yards out with 2:24 to go, and the winning score to Bell.
Burke also hit Chamblee with a 20-yard touchdown pass early in the third quarter to cut North Central's lead to 21-7.
Nick Kukuc ran 19 yards for his second TD of the game with 6:15 to play in the third, boosting North Central's lead back to three touchdowns. Jordan Tasslo also scored twice for North Central.
Burke completed 24 of 49 passes for 311 yards and four TDs, with two interceptions.
Kukuc gained 118 yards on 18 carries for North Central.
Wis.-Whitewater 41, Franklin 14
WHITEWATER, Wis. — Levell Coppage ran for 221 yards and three touchdowns, and Matt Blanchard passed for two more scores as No. 1 Wisconsin-Whitewater (12-0) cruised to the quarterfinals with the home victory over Franklin (10-2).
Whitewater took a 21-0 lead with 10:26 to play in the second quarter on Blanchard's 43-yard pass to Cory Robinson. That came after Coppage scored on runs of 8 and 6 yards.
Franklin got on the board with Jonny West's 1-yard run at the 6:24 mark of the second quarter, but Coppage answered with a 27-yard touchdown run 3:04 before the half.
Blanchard completed 11 of 14 passes for 141 yards with an interception.
Salisbury 49, Kean 47 3OT
SALISBURY, Md. — Ross Flanigan ran for a two-point conversion to cap Salisbury's turn in the third overtime, then Kean's two-point pass sailed out of the end zone to give No. 10-ranked Salisbury (11-1) the home victory.
Flanigan's winning run came after Salisbury's Randal Smedley ran 2 yards to put the Sea Gulls a 47-41 lead. Kean answered on fourth down with a 27-yard pass from Tom D'Ambrisi to Chris Suozzo.
Kean trailed 34-20 after Salisbury's Dan Griffin scored on a 27-yard run with 4:22 to play in the third quarter. Kean's Darius Kinney scored the next three touchdowns: an 11-yard run with 30 seconds to go in the third, a 2-yarder with 45 seconds remaining in the fourth quarter to tie it, and a 1-yard run in the first overtime.
Smedly gained 242 yards on 26 carries with two touchdowns. D'Ambrisi completed 15 of 26 passes for 271 yards with three scores and three interceptions.
Salisbury plays top-ranked Wisconsin-Whitewater next Saturday in the quarterfinals.
Wesley 49, Linfield 34
DOVER, Del. — Shane McSweeney passed for four touchdowns and scored one of his two rushing touchdowns as No. 7 Wesley (11-1) scored 42 consecutive points to win at home over No. 5 Linfield of Oregon (10-1).
After McSweeney ran 46 yards for a touchdown with 10 minutes to play in the second quarter, Linfield surged to a 27-2 halftime lead on Mickey Inns two touchdown passes, a 1-yarder to Buddy Saxon and a 33-yard strike to Lucas Jepson with 29 seconds to go before halftime.
Then McSweeney went to work. He hit Steven Koudossou for touchdowns of 15 and 28 yards, sandwiched around Leon Jones' 99-yard interception return for a TD.
In the fourth quarter, McSweeney, a 6-foot-2, 213-pound senior, passed to Sean McAndrew for touchdowns of 3 and 10 yards, then finished the day with an 8-yard scoring run.
McSweeney completed 16 of 22 passes for 259 yards, four TDs and an interception, and rushed 27 times for 174 yards and two scores. Inns led Linfield with 32 completions in 49 attempts for 407 yards, three TDs and an interception.
Wesley plays Mary Hardin-Baylor in the quarterfinals.
Mary Hardin-Baylor 49, McMurry 20
BELTON, Texas –Darius Wilson ran for two touchdowns, and LiDarral Bailey passed for one TD and ran 78 yards for another as No. 4 Mary Hardin-Baylor (12-0) routed No. 19 McMurray (9-3).
Mary Hardin-Baylor also scored on Rocky Vaclavick's fumble recovery and Ty Dooley's interception return.
Bailey ran 15 times for 135 yards and completed 10 of 17 passes for 139 yards.