St. Thomas football coach Glenn Caruso was honored Tuesday in the Anderson Athletic and Recreation Complex Hall of Fame area for winning the Liberty Mutual National Coach of the Year award.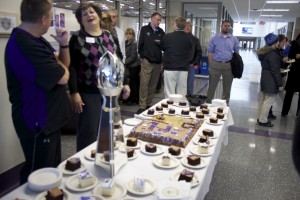 Caruso is the only coach to win the award twice, and all were welcome to enjoy a piece of cake and see the trophy.
Along with the trophy, Liberty Mutual donated $50,000, which Caruso will give to St. Jude's Children's Research Hospital, Bucky's Pride and the local Ronald McDonald House Charity.
Bucky's Pride, founded by Caruso, is particularly special to him because it is an organization that helps the families of children with cancer and blood disorders. As a child, Caruso suffered a life-threatening blood disorder.
Caruso said that the success he has had at St. Thomas is due to his players and other members of his staff.
"I think it's more a function of an entire community and less the function of one person," Caruso said. "What we have here is more than a football team—it's a community."
Off the field, Caruso and his players exemplified this statement by taking time to serve the community by participating in the St. Thomas Up 'Til Dawn benefit. The players wrote 2,000 letters to raise funds for St. Jude's Children's Research Hospital.
Bob Kolnik, a member of the alumni board of directors, said that Caruso is a "great assest to the St. Thomas community, well-deserving of the award."
"Coach Caruso always talks about being a village and bringing everybody together," Kolnik said. "I always try to remind him that it still starts at the top."
Nick McAndrews, Cynthia Johnson and Anastasia Straley contributed to this report.