After one day of racing, the men's and women's swim teams are both poised to make historic runs at the MIAC Swimming and Diving Championships.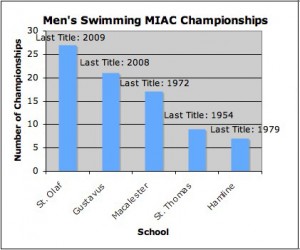 The men's team is in second place and the women's team is in third place after Thursday's races, positioning both for a potential championship bid on Saturday. The men are one point out of first place, trailing Gustavus Adolphus College 212 to 211, while the women are just one point behind second-place Carleton College.
The women's team has never won a championship, while the men's team has not won a championship since 1954.
St. Thomas Sports Information Director Gene McGivern noted that in 1954, Dan Schneeman was a triple winner for St. Thomas. Schneeman is the grandfather of current sophomore football standout Fritz Waldvogel.
Senior All-American Peter Mullee and junior Becca Ney led the Tommies Thursday with individual wins in the 50-meter freestyle, and both the men and women took first in the 400-meter relays. The men's team also won the 200-meter relay.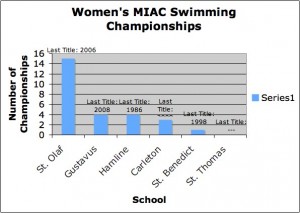 St. Thomas swimmers broke eight school records during Thursday's racing.
The championships continue through Saturday evening. Check back on TommieMedia for continued coverage.
Jordan Osterman can be reached at jrosterman@stthomas.edu.