Three St. Thomas swimmers and divers competed Wednesday, March 24, and Thursday, March 25, in the NCAA Swimming and Diving Championships in Knoxville, Tenn.
Senior Becca Ney and sophomore Sam Rauchwarter represented St. Thomas at nationals for the second year in a row, while junior Jennifer Easton made her first appearance.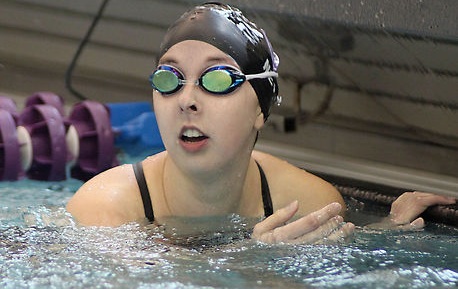 "It's awesome. There's nothing like it," Rauchwarter said. "It's a rare thing that not many student-athletes get to do."
The opening ceremonies and preliminary rounds for all three Tommies were held Wednesday. Easton missed a spot in the consolation finals in the 3-meter dive by one place with a score of 356.65. She placed 17th out of 22 in the preliminary but finished strong in the 1-meter dive, taking third place with a score of 438.30.
On Wednesday, Ney clocked in at 24.32 in the women's 50 free preliminaries, but her time was not good enough to advance. She also did not advance in the women's 200 free, though the race isn't one she trains for, she said.
"It didn't go as well as I had hoped," Ney said. "I don't think I fully recovered from conference. I'm swimming a little tired. The 50 [free] is just one of those races that if you're off in one thing, it throws off everything.
"The starter was really quick for my race and usually they hold you on the blocks for a big meet like this. So I was delayed off the block and just couldn't recover after that. [In the 200 free], I didn't really train anything over 100 [free], so a 200 [free] was a hard push for me."
Rauchwarter swam a 4:45.23 in the men's 500 free preliminaries but did not advance. Like Ney, he competed in an event he had not trained for.
"I'm not really that disappointed," Rauchwarter said. "I would have liked to do a little bit better, but I was more focusing on my 200 [free]."
In the 200 free, Rauchwarter swam a 1:41, good enough for a 24th-place finish, but his time was a second slower than last year.
"It went alright, obviously not as well as I would have liked it to," Rauchwarter said. "I didn't finish as good as I did last year, but the times were also way faster this year in comparison to previous years."
Rauchwarter and Ney said swimming at the University of Minnesota last year for nationals gave them an advantage.
"Last year we were at home so that definitely helped," Rauchwarter said. "We definitely had more fans there, and then also we had a lot more people qualify last year, so that always helps too with training."
Rauchwarter and Ney both will compete in the 100 free Saturday.
Check TommieMedia later for more coverage.
Ryan Shaver can be reached at Shav7005@stthomas.edu