St. Thomas interviewed three candidates for the head baseball coach position this week. As part of the interview process, each candidate spoke this week at a session open to the community.
The candidates are interim head coach Chris Olean, Hamline University head coach Jason Verdugo, and Forest Lake High School head coach Brian Raabe.  
Chris Olean, St. Thomas interim head coach
Olean was named the interim head coach when coach Dennis Denning retired last season. Olean led the Tommies to a MIAC championship and the NCAA regionals last season.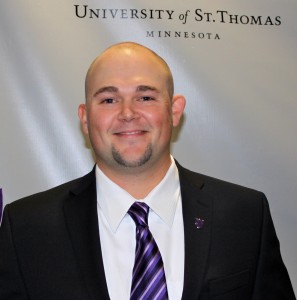 Olean was the assistant pitching coach for nine years prior to being named the interim coach. He also has professional experience with the Milwaukee Brewers and St. Paul Saints.
Olean is also a St. Thomas alumnus, and he played for the first Tommie baseball team that went to the College World Series.
"It's my dream job. I've been working for this job for 10 years," he said. "I don't want to go beyond St. Thomas."
Olean said if he is hired for the position, he wants to continue Denning's fundamental program with some slight changes in areas such as hitting.
"As assistant coach, I was a big part of what that was," he said. "My deal has been the pitching strength of our team."
Olean said it has been fun to be part of the coaching staff. He would like to follow Denning's "legend and keep it going."
Jason Verdugo, Hamline University head coach
Verdugo has been Hamline University's head coach since 2001. He also has been working as a pitching and first base coach for the St. Paul Saints since 2005. Verdugo graduated from Arizona State University, where he pitched for the baseball team and was the football team's quarterback.   
He also has professional experience playing with the San Francisco Giants and St. Paul Saints.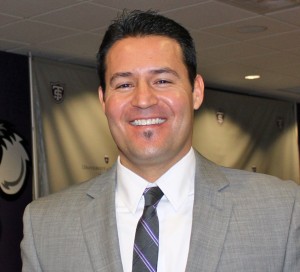 As a coach, Verdugo said he believes "creating relationships is key." At Hamline, he said the biggest donors to the baseball program are 32 years old and younger: the former players he coached.
"It speaks volumes that they're sacrificing to give money back," he said.
He describes his coaching style as "very aggressive."
"I have a lot of opportunity to coach one-on-one," Verdugo said. "One-on-one is more stern than yelling across the gym or field house."
Verdugo said his goals as coach would be "identifying and taking chances." He said he is confident he can get good players to come to St. Thomas.  
"One of the reasons this is attractive is that I love a challenge," Verdugo said. "Can you sustain the success? I am confident I can do that.
"I know a lot about the kids here. I studied them, recruited against them. I'm excited."
Brian Raabe, Forest Lake High School head baseball coach
Raabe has been the Forest Lake High School head baseball coach since 2000 and has worked as a Minnesota Twins camp trainer since 2004.
Raabe played for the University of Minnesota and was an All-American in 1990. After graduating, Raabe was a professional baseball player for 10 years, playing with teams including the New York Yankees, Colorado Rockies and Minnesota Twins.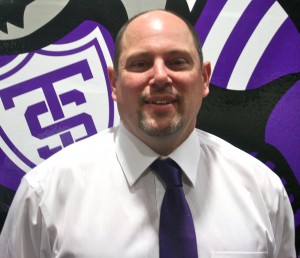 As head coach, Raabe said he would "take the program and guide it to the next level." His fundamental priorities for players are "passion, knowledge and integrity."
Raabe said his experiences as a professional would help him relate to players. He said he has been in situations where he knows he is not the most talented and needs to work hard.
"Especially when A-rod (Alex Rodriguez) and Derek Jeter are your double-play partners," he said.  
Raabe describes himself as a "player's coach." He said he likes to know his players and let them know "I've got their back."
Raabe said his goal is to become a college baseball head coach, and everything he has done is to work for that.
"I'm fighting for my career here," he said. "I'm going for it."
Sports Information Director Gene McGivern said the university will announce the new head coach early next week. A committee will review and discuss the candidates before a final decision is made.
Theresa Malloy can be reached at mall5754@stthomas.edu.