This is the opinion of Sports Editor Jordan Osterman.
It's getting to be that time of year. Concession stands are loading up, statisticians are warming up their fingers and St. Thomas equipment manager Willy McCoy is laying out game jerseys in numerical order.
The season of MIAC winter championships is almost here.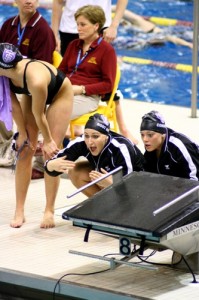 When the St. Thomas swim team hits the pool at the University of Minnesota Aquatics Center Feb. 18, it will kick off more than two weeks of playoff action. Rivals will clash and the conference's best will go on display in swimming, basketball, hockey, and track and field. For St. Thomas sports fans, those weeks are going to be busy because the Tommies have postseason berths in every single winter sport.
Starting with swimming, the men's team enters the conference meet with MIAC-best times in seven events. Anchored by senior All-American Peter Mullee, who is seeded first in three events and has been known to train in the off-season by traveling for days with pods of dolphins, the Tommies are poised for a great meet.
On the women's side, junior Becca Ney is seeded first in two individual events, contributing to St. Thomas' total of three top-seeded races in the meet. As highlighted by their pre-meet traditions, both the men's and women's teams are willing to do whatever it takes to do well at the MIAC championships.
Next to be circled on Tommie sports fans' calendars is the women's basketball tournament, which begins Feb. 22. St. Thomas has already locked up a playoff berth and is currently in fourth place with two games to play. Depending on how it finishes out the season, the team will either start its tournament Feb. 22 or Feb. 24. Junior transfer Rachel Booth has given the team a boost with 69 blocks this season, reminiscent of Billy Madison at third grade recess.
The men's basketball tournament will tip off Feb. 23, but thanks to a fifth-straight conference championship, this year's Tommies won't play until Feb. 25. As the top seed, St. Thomas became just the third school in conference history to win five straight MIAC championships. St. Thomas wrapped the championship up with a win over Bethel Feb. 10, almost two weeks before the tournament starts. With a top-five ranking in the country all season, the No. 3-ranked Tommies have sported a target on its backs every game but always met the task. As the top seed, St. Thomas will host all its games throughout the playoffs. Even if you're not a basketball fan, it's worth getting over to the Gangelhoff Center just to check out Teddy Archer's sweet new hairstyle.
Moving from the hard court to the ice sheet, the men's hockey tournament begins Feb. 26. After being in danger of becoming the first men's hockey team to miss the playoffs in 24 years, St. Thomas stepped up and put together a five-game winning streak. With a 4-1 win over Bethel Feb. 14, the Tommies clinched a playoff berth and are currently seeded third for the conference tournament. That's quite a run for a team that during one stretch had only one victory in 10 games.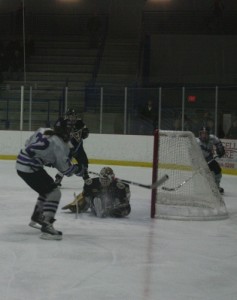 The women's hockey team left little doubt it would be a part of postseason MIAC play. St. Thomas topped the conference standings most of the season. Anchored in net by senior All-MIAC goalie Lauren Bradel, St. Thomas won three of its last four games with four games to go. The puck drops on women's hockey postseason action March 2. Let's hope the team was taking notes on how to bury the puck from the U.S. women's hockey team, which beat China and Russia by a combined 25-1 in its first two games.
For Tommie fans who feel the need for speed, the indoor track and field championships starting March 4 have it. St. Thomas has been nothing short of a dynasty in indoor track. The men's team has won the conference championship in all 25 seasons the meet has been held, and the women have won 10 straight indoor titles. The only realistic advice for watching the Tommies run at the indoor championships? Don't blink.
At this point in the season, St. Thomas and Gustavus are the only schools in the MIAC with berths solidified in all six winter sports. It's hard not to feel spoiled by the quality of conference performances Tommies have consistently shown this season.
In the playoffs and championships, though, the spotlight shines brighter than it does all year. St. Thomas fans should appreciate the fact that our athletes are going to be under that light for the next two weeks. In MIAC sports, there's no better place to be.
Jordan Osterman can be reached at jrosterman@stthomas.edu