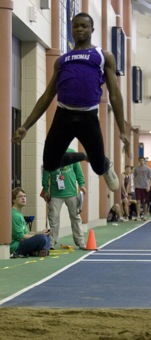 Sophomore Mike Hutton's fourth-place finish in the 800-meter run highlighted St. Thomas' Saturday at the NCAA Indoor Championships in Greencastle, Ind.
Hutton's time of 1 minute, 52.92 seconds was slightly over his qualifying time of 1:52.80 but was good enough to contribute points to the St. Thomas men, who finished 23rd with nine points.
Freshman Eyo Ekpo's also scored points with a fifth-place triple jump of 47-10 ¾. St. Thomas' 4×400 meter relay team of junior Matt Griswold, senior Joe Rohlfing, Hutton and senior Patrick Jager finished in ninth place in 3:19.92.
After winning the national title Friday in the distance medley relay, the women's team finished in 11th place Saturday in the 4×400 meter relay. Seniors Molly Demer, Erin Sprangers, Kelly Russ and Nikki Arola finished in 3:58.24.
The women's team finished in 19th place out of 61 teams.
Jordan Osterman can be reached at jrosterman@stthomas.edu.