Editor's note: TommieMedia is taking a deeper look this week into how each of the Big Five organizations (USG, SAC, STAR, RHA and HANA) operate. Monday delves into USG and the student activity fee, Tuesday will give insight into SAC, Wednesday explains more about STAR, Thursday goes inside RHA and the series will end Friday with a look into Hana.
Some students may think their student activity fee just goes toward a T-shirt every once in a while, but that money actually is divided between the Undergraduate Student Government and St. Thomas Activities and Recreation (STAR) to do more than just provide T-shirts.
According to institutional research and analysis, there were 6,146 undergraduate students registered on the 10th day of classes. So the total amount allocated for the student activity fee by the controller's office for the fall 2009 semester was $575,000, according to Cahill.
Where does all the money go?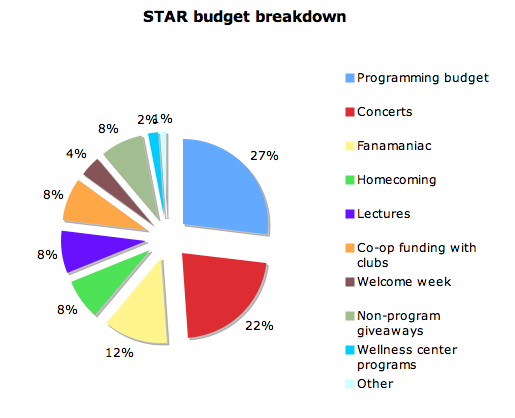 Brady Narloch, USG vice president of financial affairs, said STAR typically receives 60 percent of activity fee so the staff can do programming.
That money is then divided into sections displayed at right.
According to Drew Nowak, STAR finance chair, STAR has received between "$275,000 [and] $300-something" per semester in the past. This semester, STAR received about $327,000, and 16 interns were each paid a $1,500 stipend for the semester, leaving $303,000 for fall programming.
With that large sum of money and no place on campus to hold a large-scale homecoming dance, STAR decided to have two smaller concerts – Michelle Branch and Eric Hutchinson – and a few other activities in lieu of a large dance.
"We are definitely trying to provide a lot of alternate activities for students to do just because we do understand that it is kind of a downer to not have a dance, which is pretty traditionally done," Nowak said.
Along with sponsoring the bulk of the student homecoming activities, STAR provides programming for the whole semester. The organization purchases tickets to events and sells them at discounted prices to students or gives them away for free.
"I think all the groups, USG, STAR, HANA and all of our clubs and organizations that have access to that fee, do a phenomenal job of programming," Cahill said. "I think all of our students do a phenomenal job of being good stewards of the money."
Cahill said the best way for students to have a voice in what happens to their activity fee is to get involved. One option, she said, is to apply to be on the finance committee, but it is full for this year. Another is to get involved with student government or on the STAR committees.
Stephani can be reached at slbloomquist@stthomas.edu