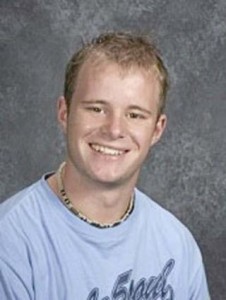 The family of a St. Thomas student who died on a spring break trip to Mexico has filed a lawsuit alleging it happened after a struggle with a traveling companion who has competed in ultimate fighting competitions.
Josh Gunderson, 20, a freshman from Stillwater, died March 24 after he apparently fell and hit his head on the floor of a hotel bathroom in Puerto Vallarta, then choked on his own vomit. A friend, Ashley Jones, who was also a St. Thomas student, was allegedly in the room along with Zachery Jensen, a mixed martial artist serving as Jones' bodyguard.
Gunderson's mother, Elizabeth Gunderson Koll, filed the wrongful death lawsuit in Washington County District Court. She's seeking at least $50,000 in damages from Jensen, as well as against Jason Jones, the father of Ashley Jones, and his company, Sterling Systems Inc. of Golden Valley.
The Gunderson family's lawyer, John Magnuson, said he believes Jensen worked as a chauffeur for Jason Jones, who sent him on the trip as his daughter's bodyguard.
Jensen did not return phone or e-mail messages left by The Associated Press. A woman who answered the phone at Jason Jones' company said he was not commenting on the lawsuit, and she declined to provide the name of his attorney.
Jensen, 27, has been a regular competitor on Spike TV's reality series "The Ultimate Fighter."
The lawsuit includes a statement from Lourdes Becerra Perez, a concierge at the Sheraton Hotel in Puerto Vallarta, who said she entered the room where Gunderson and Jones were staying to find Jones squatting over her suitcase and talking on her cell phone. She said Jensen, who had bloodstains on several parts of his body, explained Jones was trying to get a flight home.
Perez looked in the bathroom and saw Gunderson's dead body. She said Jensen explained that he awoke to find Gunderson attacking Jones.
"That's why I came down here, to protect her," Perez said Jensen told her.
But the Gunderson family said Jensen and Jones, the last people to see Gunderson alive, have refused to communicate with them about the events leading to Gunderson's death.
An autopsy performed in Mexico found Gunderson's blood alcohol level when he died was .12, and his mother said she believes alcohol was a major factor in whatever happened. The family filed the lawsuit in an attempt to get the truth about Gunderson's death, their lawyer said.
"Plain and simple, these folks just want to know what happened, and they're entitled to know," Magnuson said.
Janis Amatuzio, a forensic pathologist hired by Gunderson's family, performed a second autopsy four days after his death. She said he died because vomit blocked his breathing. She said he also had mild blunt force head injuries, bruises on his face, bleeding into his eyelids and other bruises.
"If the information in the statement from the concierge is true, it is likely Joshua experienced an altered level of consciousness due to the struggle, which lead him to vomit and aspirate, and subsequently walk into the bathroom and collapse," Amatuzio wrote in a letter to Magnuson.
However, she added: "The truth about 'What happened' cannot be fully determined until additional information about the events of circumstances immediately preceding the death are uncovered."
The Associated Press contributed to this report.