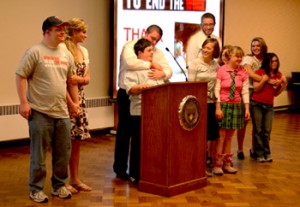 Nearly 1,300 students, 1,248 to be precise, pledged to stop using the word "retard" or "retarded" last week as part of the Special Olympics' national "Spread the Word to End the Word" campaign.
Seniors Kari Jo Johnson and John Busch, who both have younger brothers with Down syndrome, brought the campaign to campus. The two also hosted an event in the Murray Herrick Center ballroom Tuesday night to celebrate the campaign's success. Johnson thanked the campaign supporters and the 60 who attended the event saying, "All it takes is one person. You can be that one person to spread the word to end the word."
Johnson premiered a video she has been working on featuring St. Thomas students talking about the word. The video will be shown on the Special Olympics' "r-word" campaign's national website.
The event also featured St. Thomas students who have siblings with intellectual disabilities and a Special Olympics representative who has cerebral palsy.
The personal and emotional stories had some audience members tearing up.
Senior Barbara Koehl said, "It was the most engaging presentation or speech I've ever been to."
'People with disabilities can do things, they just do it different'
Danielle Liebl is a high school senior and Special Olympics' speaker for the national campaign. She has cerebral palsy and told the audience she can't ride a bike or write neatly. She also suffers from muscle spasms.
But she is a Special Olympics gold medalist in swimming. She made her high school swim team and swam with it for three seasons.
Liebl asked an audience member to come to put toothpaste on a plate. She then asked the volunteer to put the toothpaste back in the tube without using her hands. Not all the toothpaste made it back in the tube.
Liebl said this represents two things. First, "When words come out of your mouth, you can't always take them back." Second, Liebl pointed out even though the volunteer could not use her arms, she put some back in the tube.
"It wasn't perfect," Liebl said. "It's like people who have disabilities and cannot use something in the same way. People with disabilities can do things; they just do it different."
Students share stories about their siblings with intellectual disabilities
Junior Addison Peters-Farrel has a younger sister named Justice who has Down syndrome. Peters-Farrel told the audience how her sister has taught her to be a better person. "Her greatest ability is to make us feel better," she said. "She has made me a better person…I want to thank Justice for making the world a better place."
Junior Kelsey Willits cried as she talked about her younger sister who has Down syndrome. She said the tears were the happiest tears she has cried. "To encounter some with special needs is to encounter Christ," Willits said. "I feel so blessed and honored as a sister. She has taught me what it means to love."
The pledge read: "I pledge to support the elimination of the derogatory use of the 'r-word' from everyday speech and promote the acceptance and inclusion of people with intellectual disabilities." People who pledged could also add a personal message.
Senior Peter Faulhber took the pledge last week with most of his friends. He thought the campaign was "very far-reaching on campus." He said the campaign is a "starting point for making people conscious."
The 'r-word' campaign
Special Olympics launched its "r-word" campaign in 2008 and has more than 133,000 pledges.
The campaign has grown internationally and includes celebrity endorsers Joe Jonas, James C. McGinley, Johnny Knoxville and Carl Lewis.
Theresa Malloy can be reached at mall5754@stthomas.edu